Nutrition Importance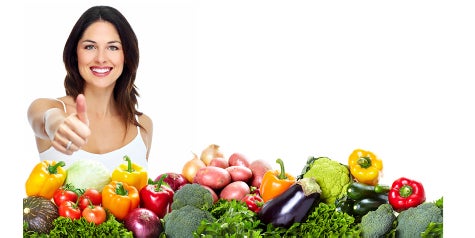 - 3/19/2019
Many of us have heard the phrase "you are what you eat." The foods and drinks we consume directly impact how we feel and how our bodies respond. Eating a variety of whole grains, low fat dairy products, lean meats, fruits, vegetables and healthy fats will help overall health in a variety of ways, such as:
· Improving well-being
· Lowering high cholesterol
· Reducing high blood pressure
· Aiding in ability to fight off illness
· Reducing the risk of some diseases, such as heart disease, diabetes and stroke
· Improving the ability to recover from an injury or illness
· Increasing energy levels

We make choices in our daily diet. Are you reaching for a low-fat yogurt with granola or a donut for breakfast? Think about how you feel a half hour after you eat. Your food should give you energy and satisfy you until it's time for a snack or the next meal.

One way to improve what's on your plate is to examine the colors of your food and ensure that you're getting a rainbow of choices – mixture of red, orange, yellow, green, blue, purple, not just brown, black and white.

Well-balanced plates could look similar to these ideas:
Breakfast – scrambled egg with fresh, diced spinach and low fat cheese, served on whole wheat toast
Lunch – 3 ounces of grilled chicken, salad greens with low fat dressing, topped with 1 ounce of almonds or walnuts
Dinner – 4 ounces of ground turkey cooked with diced bell peppers, onions, salsa and homemade taco seasoning served over ½ cup of brown rice or cauliflower rice with a side of roasted broccoli
Snacks between meals – apple with 1 teaspoon of peanut butter; 5 ounces of Greek yogurt with 1 tablespoon of granola; 1 square of dark chocolate; 20 carrot chips with 1/4 cup of hummus; 1 cup of fresh fruit with 1 tablespoon of whipped cream

If you have concerns about your diet and how to improve the foods you eat, consider making an appointment with a Baptist primary care physician at EasySchedule.org. A doctor can work with you on a plan that best suits you or refer you, if needed, to a registered dietician and nutritionist.

The foods we eat make a real difference in our health. At Baptist Health Care, we are thankful for our primary care physicians, registered dietitians / nutritionists and diet technicians who evaluate and treat malnutrition, provide medical nutrition therapy and plan meals for our patients, team members and community members.
Categories:
---
Related Articles: