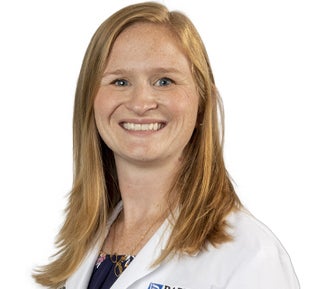 ---
RATINGS & REVIEWS
The provider star rating is calculated using patient reponses to the five care provider questions in our patient satisfaction survey. Below you can see the provider's star rating and the number of his or her patients who have provided feedback.
4.8
Provider discussed treatment options
---
4.9
Provider showed concern
---
4.8
Provider explained things clearly
---
4.9
Provider included you in decisions
---
4.8
Likelihood of recommending this provider
---
---
Comments
3/29/2022
Good
---
3/29/2022
I had a medical issue at the office and Dr Wolverton treated me and made arrangements to get-me to Baptist Hospital ER gulf Breeze. Dr Wolverton explained different things to me and was very compassionate. Thank you
---
3/16/2022
Fantastic experience
---
3/07/2022
Felt very comfortable, and she had a wonderful manner of care.
---
3/05/2022
Dr Wolverton is simply the BEST Doctor I have ever had period.
---
3/03/2022
Dr. Wolverton had the NA recheck my blood pressure before I left. As mine always comes down after I calm down. I have white coat HBP in the office.
---
3/02/2022
This was my first visit with Dr. Wolverton, and I was very impressed with her. She's a good listener and was very thorough.
---
2/27/2022
Dr. Wolverton is amazing. I never feel rushed. She always listens and does not make me feel like a dummy for asking questions. I appreciate her patience with me.
---
2/26/2022
Over all experience was great! Was in and out. Never have to wait long. And the whole staff is amazing.
---
2/25/2022
First visit and I am privileged to be under her care.
---
2/25/2022
Dr. Wolverton is amazing and she takes the time to listen to every concern, you can tell she genuinely cares. I couldn't ask for a better dr
---
2/17/2022
Very pleased
---
2/16/2022
Excellent
---
2/14/2022
Dr Wolverton is very good, however this app was mishandled.
---
2/03/2022
Good
---
2/01/2022
Above excellent!
---
2/01/2022
Very impressive. Seemed genuinely interested in my heath
---
Biography
Caroline M. Wolverton, D.O., is a highly trained, family medicine physician who has experience in osteopathic manipulative treatment which is a hands-on technique used to diagnose, treat and prevent illness or injury. Dr. Wolverton provides quality and convenient health care to the residents of Gulf Breeze and is currently welcoming new patients.
Medical Degree
University of Pikeville Kentucky College of Osteopathic Medicine
Pikeville, KY
Residency
A-OPTIC Methodist Hospital
Henderson, KY
Memberships
American Osteopathic Association
American College of Osteopathic Family Physicians
Meet Your Physician
What led you to become a doctor or choose your focus of medicine?
My mom is a BSRN, and growing up she got me interested in medicine early. During high school, I had the opportunity to shadow my primary care provider and found my love of family medicine. I continued to find myself drawn to primary care through college and medical school.
What about your line of work do you find most rewarding and why?
I enjoy building relationships with my patients and their families. I really feel like I have succeeded when my patients open up to me about themselves and their health.
What is something about you that only your patients would know?
I treat my patients like my family.
How would a patient describe you?
A good listener, caring and honest
What's your proudest moment as a doctor?
As a third year resident, I had a patient decide to establish with me. After one visit, he felt I had listened to him and cared about making him better more than any of his previous providers. Together, we developed a treatment plan that began to improve his quality of life.
In your opinion, what's the most important factor in a doctor-patient relationship?
Trust is absolutely the most important factor. Trust enables a patient and provider to speak honestly about health concerns. Both provider and patient need to trust one another to ensure the best care possible.
What can a patient expect when they have you as a doctor?
They can expect me to listen to them and be up front with them about my plans for their care. They can expect me to involve them with that plan.
What do you find most encouraging about the work you do?
I am always encouraged to see patients making changes to live healthier and make healthier choices. When I see patients making the changes that allow me to discontinue medications or when they are able to complete tasks they either never have before or haven't done in a while, that always encourages me.
What are your top priorities with every patient you see?
My top priority is to get the patient involved. I want to make sure they understand their health and what can be done to improve it. My second priority is to make sure we are managing their health in the best way possible both from a medical standpoint and from a lifestyle point.
Describe one of the top ways you ensure each patient receives the quality, personal health care he/she deserves.
The best way to ensure each patient receives the quality and personal care they deserve is to listen to them. I find that patient often times will tell you what they need even if they don't realize it.
Is there anything more you would like prospective patients to know about you?
I understand everyone's time is important, and I try to keep on schedule as best I can without my patients feeling rushed.
Do you have any specific medical interests?
I am very passionate about Osteopathic Manipulative Therapy. I enjoy treating both chronic and acute pain/dysfunction with a hands-on approach. This can reduce the necessity for pain medications. I want to offer my patients as many total wellness services within my office to limit the number of providers they are required to see. For this reason, I am also passionate about women's health.