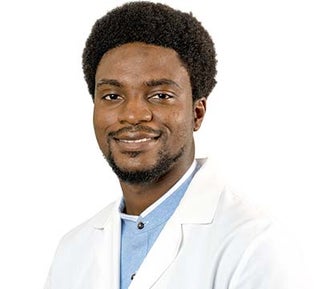 ---
RATINGS & REVIEWS
The provider star rating is calculated using patient reponses to the five care provider questions in our patient satisfaction survey. Below you can see the provider's star rating and the number of his or her patients who have provided feedback.
4.6
Provider discussed treatment options
---
4.7
Provider showed concern
---
4.7
Provider explained things clearly
---
4.7
Provider included you in decisions
---
4.7
Likelihood of recommending this provider
---
---
Comments
3/29/2022
The PA was excellent. He asked a lot of questions and we had a good conversation about what is going on with my condition. He is very well educated in that he mentioned therapies I might try after he gets test results. Extremely competent
---
3/20/2022
So nice and helpful!
---
3/18/2022
Excellent again!
---
3/13/2022
Doctor and all staff was very nice.
---
3/08/2022
Definitely will be recommending
---
2/26/2022
I finally feel like I'm in great hands!
---
2/22/2022
He did not ask any questions about my sudden weight gain and then blamed my problems on that weight gain. Did not explain how or where to go get my blood work or urology exam done.
---
2/19/2022
David is the best. I changed my PCP from [...] just to see David and I am very pleased with my decision.
---
2/14/2022
U is t was the first time [...] saw NP David. He was outstanding and worked hard to understand the problem and prescribe solutions.
---
2/05/2022
Informative!
---
Biography
Olusegun David Asubiojo, FNP-BC, is a board-certified family medicine nurse practitioner who provides care to individuals at Baptist Medical Group Primary Care – Gulf Breeze. He works with his patients to develop a tailored care plan that best meets their needs, and he currently welcomes new patients.
Medical Degree
Master's, University of South Alabama
Mobile, AL
Pensacola Christian College
Pensacola, FL
Certifications
American Association of Nurse Practitioners
American Heart Association Certifications: Basic, Advanced, Stroke
Memberships
American Association of Nurse Practitioners
Meet Your Provider

What led you to become a doctor or choose your focus of medicine?
I was raised in a third-world country and have always wanted to be a healthcare provider to help people. My main goal is to promote health and facilitate disease prevention, which I am able to do in the primary care setting
What about your line of work do you find most rewarding and why?
I find it rewarding to see improvements in the quality of life of my patients.

What is something about you that only your patients would know?
I treat my patients the way I would like to be treated if I was in their shoes.
How would a patient describe you?
Compassionate, relatable, and detailed.
In your opinion, what's the most important factor in a doctor-patient relationship?
I think that establishing effective communication is key in developing a good provider-patient relationship.
What can a patient expect when they have you as a doctor?
I like to educate my patients about their health, so they can make informed decisions and feel involved and in charge of their care.
What do you find most encouraging about the work you do?
The implementation of Evidenced-Based Practice has standardized healthcare and is helping with the improvement of healthcare delivery and patient outcome.
What are your top priorities with every patient you see?
Health promotion and improvement of their quality of life.

Describe one of the top ways you ensure each patient receives the quality, personal health care he/she deserves.
By listening to the patients and understanding what their expectations and goals of the treatment are.