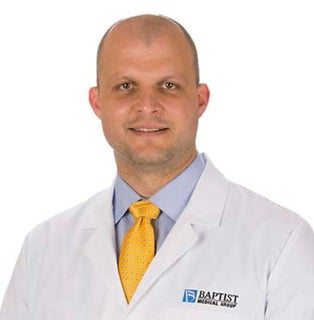 ---
RATINGS & REVIEWS
The provider star rating is calculated using patient reponses to the five care provider questions in our patient satisfaction survey. Below you can see the provider's star rating and the number of his or her patients who have provided feedback.
4.7
Provider discussed treatment options
---
4.7
Provider showed concern
---
4.7
Provider explained things clearly
---
4.7
Provider included you in decisions
---
4.7
Likelihood of recommending this provider
---
---
Comments
5/31/2022
Dr Evan Lewis and his team have been caring, concerned and very helpful.
---
5/13/2022
I could not ask for a better, more understanding, and detail oriented doctor. He is willing to listen to his patient's concerns and as a retired RN, I truly appreciate that.
---
5/05/2022
Very impressed with Dr Lewis' extensive review of my medical record prior to coming into the room to meet with me. He was well informed of my past operative procedures and have reviewed CT's and MRI's.
---
5/03/2022
Dr Lewis was good and clear explaining and the X-ray tech was wanderful
---
4/28/2022
Dr Lewis was very informative and gave an in-depth presentation about my condition.
---
4/28/2022
Hard to find a better Dr. He Is a true professional with all the traits of an excellent professional.
---
4/26/2022
Good
---
4/26/2022
Very uncarng
---
3/30/2022
All staff was excellent!
---
3/25/2022
He was very thorough and gave good info and explanations
---
3/15/2022
Excellent experience
---
3/01/2022
Dr. Evans was very nice and polite. He explained my mri results to me and showed me exactly where the problem was and what he planned to do. I really appreciated that. He answered my questions, warned me of the risks involved.
---
2/25/2022
Very professional and a very good what appears to me to be a very empathetic physician. Addressed all questions and concerns.
---
2/05/2022
I was recommended to him by my physician. My case was handled promptly and I really appreciate the care given.
---
Biography
Dr. Evan Lewis is a highly trained neurosurgeon who is dedicated to providing exceptional care to his patients. He offers patients an array of advanced treatment options for complex brain, spine and peripheral nerve conditions or injuries. He is currently accepting new patient appointments.
Medical Degree
The University of Texas Health Science Center
Houston, TX
Internship
University of Maryland Medical Center
Baltimore, MD
Residency
University of Maryland Medical Center
Baltimore, MD
Year 1: Neurosurgery
Year 2: Neurotrauma, University of Maryland Shock Trauma Center
Year 3: Pediatric Neurosurgery, The Johns Hopkins Hospital
Year 4: Clinical Complex Spine, University of Maryland
Year 5 - 6: Chief Resident, University of Maryland Medical Center & VA

Professional Memberships
American Association of Neurological Surgeons
Meet your Doctor
What led you to become a doctor or choose your focus of medicine?
I became a neurosurgeon because I felt a calling to help people improve their health and quality of life while dealing with complex medical conditions.
What about your line of work do you find most rewarding and why?
It is most rewarding to be able to provide a positive outcome to my patients despite health adversities.
What is something about you that only your patients would know?
My patients know that they can count on me to listen and be there for them.
How would a patient describe you?
My patients would describe me as a doctor who can easily relate to them, shows a tremendous amount of empathy and can explain complexities of their health in easy to understand terms.
What's your proudest moment as a doctor?
My proudest moments as a doctor are being able to be with and help patients and their families cope during difficult times.
In your opinion, what's the most important factor in a doctor-patient relationship?
The most important factor in the relationship is sound communication.
What can a patient expect when they have you as a doctor?
My patients can expect that I will give them my absolute best as their doctor and that I will care for them and their families as though they were one of my own.
What do you find most encouraging about the work you do?
The most encouraging aspect of my work is that I can help people improve from medical conditions that affect their ability to live purposeful and meaningful lives.
What are your top priorities with every patient you see?
My top priorities are to seek to understand my patient's health goals and communicate effectively how I can help them achieve those goals with a clear understanding of what to expect throughout the entire process as well as remain easily available to them.
Describe one of the top ways you ensure each patient receives the quality, personal health care he/she deserves?
l do this by collaborating and valuing input from every healthcare provider and addressing all global aspects of the patient's health. I find that a team approach is best.
Is there anything more or extra you would like prospective patients to know about you?
I would like my prospective patients to know that I am excited about becoming a permanent provider of the community, I will give them my best and to know I will make myself available to them and their families at all times.
Do you have any specific medical interests?
My specific medical interests include but not limited to: diseases of the spine, brain tumors, and neurological trauma.
Media
https://youtu.be/oLnonAgX780