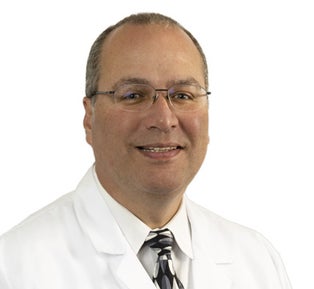 ---
Biography
Ivan J. Elias, M.D., is a double board-certified, highly trained gastroenterologist who provides quality, comprehensive treatments and can diagnose a wide variety of gastroenterological conditions at Baptist Medical Group – Gastroenterology at Gulf Breeze.
Medical Degree
Creighton University
Omaha, NE
Residency
Creighton University Medical Center
St. Joseph's Hospital
Omaha, NE
Fellowship
Texas A&M University Health Science Center
Scott & White Memorial Hospital
Temple, TX
Certifications
American Academy of Internal Medicine
American Academy of Internal Medicine - Gastroenterology
Clinical Specialties
Gastroenterology
Internal Medicine
Research and Publications
"Retrospective Review of the Omaha VA Experience with Long Term Survival Post Whipple Procedure," 1992.

"Brunner's Gland Adenoma: An Unusual Cause of Upper GI Bleeding – A Case Report," American College of Gastroenterology Meeting, 1994, San Francisco.

"Antiproliferative Effects of Gamma Interferon in Carbon Tetrachloride Murine Cirrhosis," Hepatology Meeting, 1995, Chicago.
Meet Your Provider
What led you to become a doctor?
I became a gastroenterologist over 26 years ago because it was fascinating to me then, and even more now, how evolving technologies and advances in medical instruments such as endoscopy can have such a profound impact in so many gastrointestinal illnesses and people's lives.
What about your line of work do you find most rewarding and why?
One of the most rewarding aspects of practicing gastroenterology for so many years is witnessing the tremendous advancements in the treatments, either through better medicines or improvement in technologies, of so many GI diseases and the huge impact it has had in so many people's lives.
What is something about you that only your patients would know?
My patients know that when they come to see me, I would never rush them; that I would thoroughly listen to their concerns and they would receive from me the most thorough and honest evaluation that they deserve.
How would a patient describe you?
I think most of my patients would describe me as fully engaged in our visit, as a good listener and an honest and thorough physician.
What's your proudest moment as a physician?
One of the proudest moments as a doctor to me is when I continue to see patients that have come back to see me for over 20 plus years of their lives and how they continue to put their trust in me. I am fortunate to have had many such patients in my practice.
In your opinion, what's the most important factor in a doctor-patient relationship?
Trust. As a physician you get to earn a patient's trust by doing the things I mentioned above.
What can a patient expect when they have you as a provider?
Again, they will get from me my complete focus on their issue. They will feel heard and they should expect an honest and thorough assessment of their medical concerns.
What do you find most encouraging about the work you do?
I believe the future of gastroenterology, as our knowledge and technological advances continue to improve, will lead to better outcomes in the lives of so many people with various GI issues.
What are your top priorities with every patient you see?
That they are thoroughly heard, that they are treated with dignity and respect and that they feel they have received the proper care they deserve.
Describe one of the top ways you ensure each patient receives the quality, personal health care he/she deserves.
Good health care starts with listening.
Do you have any specific medical interests?
That I will always be an advocate for a patient's best interests.
Is there anything more you would like prospective patients to know about you?
I am interested in the broad spectrum of all issues and illnesses related to general gastroenterology.