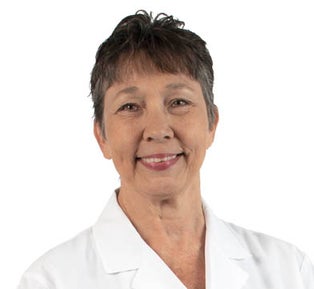 ---
RATINGS & REVIEWS
The provider star rating is calculated using patient reponses to the five care provider questions in our patient satisfaction survey. Below you can see the provider's star rating and the number of his or her patients who have provided feedback.
4.7
Provider discussed treatment options
---
4.7
Provider showed concern
---
4.7
Provider explained things clearly
---
4.6
Provider included you in decisions
---
4.7
Likelihood of recommending this provider
---
---
Comments
6/07/2022
She is very courteous and knowledgeable with my medical situation and always makes me feel at ease
---
5/23/2022
Great doctor explained everything the what's and why's the best dr I have had in ER
---
5/18/2022
I highly recommend Jeanne Harris and her team. I felt well cared for, listened to, and included in my treatment plan.
---
Biography
Jeanne Harris, MSN, APRN-C is an advanced registered nurse practitioner who specializes in urology. She offers quality urological care to patients on the Gulf Coast and welcomes new patients at her office located in Pensacola.
Medical Degree
Masters, Chamberlain College of Nursing
Downers Grove, IL
University of West Florida
Pensacola, FL
Certification
American Academy of Nurse Practitioners
Clinical Specialty
Urology
Meet the Provider
What led you to become a doctor or choose your focus on medicine?
My heart has been a part of nursing and taking care of others since I was very young.
What about your line of work do you find most rewarding and why?
Helping people through life's journey as cliché as it sounds but rings true for me.
How would a patient describe you?
Caring, honest, positive
In your opinion, what's the most important factor in a doctor-patient relationship?
Trust. A patient must trust the provider they have chosen to manage their healthcare.
What can a patient expect when they have you as a doctor?
I will do my best to provide a plan of care that meets their urologic needs.
What do you find most encouraging about the work you do?
Having the opportunity to work for the best hospital system and community on the gulf coast.
What are your top priorities with every patient you see?
My top priorities are to use evidence-based research, continued education, and dedication to care for them.
Describe one of the top ways you ensure each patient receives the quality, personal health care he/she deserves.
Commitment to their urologic health and wellbeing.