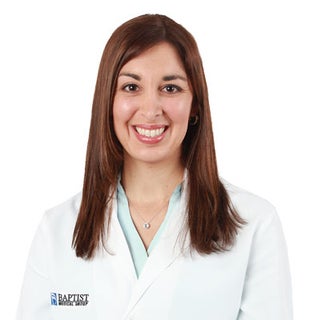 ---
Biography
Jennifer Ramsey is a certified physician assistant who offers quality, convenient neurosurgical care to patients on the Gulf Coast. She welcomes new patients at her office located in downtown Pensacola.
Medical Education
Master of Science in Physician Assistant Studies, University of Alabama at Birmingham
Birmingham, AL
Certifications
National Commission on Certification of Physician Assistants
Memberships
American Academy of Physician Assistants
Additional Information
To learn more about Jennifer Ramsey, PA-C, and her services, please visit her practice page, Baptist Medical Group – Neurosurgery.
Meet your Provider
What led you to become a provider or choose your focus of medicine?
I've always wanted to help people and had a keen interest in science. With the combination of the two, the physician assistant profession is a perfect fit.
What about your line of work do you find most rewarding and why?
Of course helping patients, but also being involved in their whole medical course from meeting them in clinic to helping during their surgery and after in the outpatient setting. It's nice to see the evolution of the process.
What is something about you that only your patients would know?
I am an advocate for my patients. I will always do my best to meet their needs.
How would a patient describe you?
Thorough, kind and trustworthy.
What's your proudest moment as a provider?
Definitely every time I watch patients walk with ease into the clinic when you've treated them in the hospital for days or even weeks. To see them make that full recovery is awesome!
In your opinion, what's the most important factor in a provider-patient relationship?
Trust and communication.
What can a patient expect when they have you as a provider?
To feel comfortable and trust in that they will receive excellent care.
What do you find most encouraging about the work you do?
As Christians we are called to serve and as a physician assistant I get to serve my patients every day.
What are your top priorities with every patient you see?
To make sure they understand their diagnosis and total plan of care so they are educated about their health.
Describe one of the top ways you ensure each patient receives the quality, personal health care he/she deserves.
I always think about how I would want to be cared for or how I would want one of my family members cared for, and that plays into how I take care of patients.
Do you have any specific medical interests?
General neurosurgery