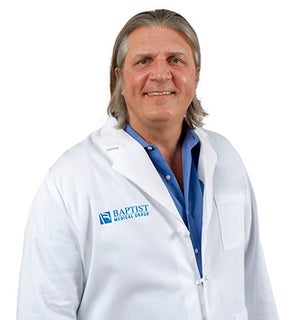 ---
RATINGS & REVIEWS
The provider star rating is calculated using patient reponses to the five care provider questions in our patient satisfaction survey. Below you can see the provider's star rating and the number of his or her patients who have provided feedback.
4.9
Provider discussed treatment options
---
4.9
Provider showed concern
---
4.9
Provider explained things clearly
---
4.9
Provider included you in decisions
---
4.9
Likelihood of recommending this provider
---
---
Comments
11/24/2022
Dr. Foust listened to all my concerns and was very helpful.
---
11/21/2022
Great to finally find a Family Physician that listens and cares, and is not rushing me out the door after a few minutes.
---
11/10/2022
Dr. Foust always takes the time to go over our lab results and concerns.
---
11/06/2022
Dr Faust is very professional and excellent in explaining my condition
---
11/06/2022
Dr. Foust absolutely the best PCP I have ever been to. Very attentive to my many ailments. He was very anxious to help me improve my health.
---
11/04/2022
Dr. Foust is a caring and top-notch medical professional.
---
10/30/2022
Listened to every question and gave understandable answers.
---
10/24/2022
Dr. Foust is a great improvement from my last doctor.
---
10/22/2022
Provider listens to my concerns and proposes a treatment plan
---
10/19/2022
I love love love Dr Foust. I'm so happy he's my provider
---
10/16/2022
I was made to feel my input was important and never rushed.
---
10/14/2022
Dr. Faust is excellent; he is relatable, easy to discuss matters with and all options are fully explained.
---
10/13/2022
I fully recommend this clinic and Doctor.
---
10/13/2022
Great doctor and assistants!!!
---
10/12/2022
Super, Excellent!!
---
10/06/2022
First visit so had a lot to go over. The doctor went through everything I was concerned with and developed a plan for treatment
---
10/06/2022
I have already recommended several to Dr.Faust's excellent practice.
---
9/30/2022
They are all great!!
---
9/29/2022
I received very good service/treatment
---
9/29/2022
Dr.Faust always takes time to explain things.
---
Biography
Joseph Foust, M.D., FAAFP, is a board-certified family medicine physician who offers quality, convenient primary care and walk-in care at Baptist Medical Group Family Medicine & Walk-In Care – Navarre. He and his dedicated staff welcome patients with traditional family medicine appointments and online EasySchedule appointments. He is now accepting new patients.
Medical Degree
Marshall University School of Medicine
Huntington, WV
Residency
Mayo Clinic
Jacksonville, FL
Clinical Interest
Metabolic syndrome/insulin resistance
Diabetes and pre-diabetes
Dyslipidemia and non-pharmacologic treatments
Weight loss
Certifications
Fellow, American Academy of Family Practitioners
Board Certified, American Board of Family Medicine
Memberships
American Academy of Family Physicians
American Medical Association
American Diabetes Association