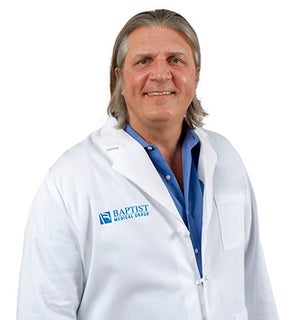 ---
RATINGS & REVIEWS
The provider star rating is calculated using patient reponses to the five care provider questions in our patient satisfaction survey. Below you can see the provider's star rating and the number of his or her patients who have provided feedback.
4.9
Provider discussed treatment options
---
4.9
Provider showed concern
---
4.9
Provider explained things clearly
---
4.9
Provider included you in decisions
---
4.9
Likelihood of recommending this provider
---
---
Comments
7/29/2023
Dr Foust care and concern for you and your health Is outstanding. You are not just another patience or number to him, you know he cares
---
7/26/2023
Love my doctor [...]
---
7/26/2023
Dr. Foust is amazing. I saw another Baptist nurse practioner before seeing him as my PCP. She did nothing for me the last 8 years before I switched to him. He has listened to me and gotten me the help I needed. He diagnosed me with psoriasis after my skin peeled off. My provider before that told me it was excema. I suffered for 3 years until Dr. Foust took care of getting me to a dermatologist where I am undergoing treatment now. Dr. Foust is the best doctor around and I have seen a lot of duds in my time. He is the real deal.
---
7/20/2023
I have recommended Dr. Foust a few times.
---
7/11/2023
Questions asked were in depth specifically about my health and prior issues; recommendations were explained thoroughly and I was very satisfied with the appointment and course of action.
---
7/09/2023
A very good experience
---
7/09/2023
It wad a good experience
---
7/06/2023
I love Dr. Foust! What an awesome doctor, very caring and easy to talk to
---
7/03/2023
This Dr and staff gives wonderful care I am thankful to have found them!
---
7/02/2023
The best I have ever experienced!
---
7/01/2023
Dr Foust has a great bed side manor. He really listens and includes you in his train of thought on what he thinks is the best course of action
---
6/20/2023
Dr Foust has been my doctor for several years and I would recommend him to anyone. He takes his time with me and answers all my questions abd concerns I have.
---
6/18/2023
Dr. Foust is the BEST doctor I have seen in years! He listens, explains things well and works to help me find a treatment plan that I am comfortable with (which ensures I will follow-thru).
---
6/16/2023
I like Dr Foust. He is very thorough, as well as a good listener. I have suggested Dr Foust numerous times
---
6/16/2023
Dr. Foust wasn't rushed through my visit. He actually HEARD my concerns and spent time explaining to me. The medications we discussed are exactly what he ordered and with detailed instructions. The staff and this physician is exactly what health care should be. I've sang the praises to my family and friends. Thank you!
---
6/11/2023
Dr Foust is a very nice doctor l would and do recommend him to all my friends
---
6/09/2023
I always feel Dr Foust gives me his full attention while at my appointment This is very rare in the medical field now a days.I always recommend him to people looking for a primary doc. [...]
---
6/03/2023
Finally a doctor that cares about me.
---
6/03/2023
I'm very happy that doctor Foust is one of my best doctors yet.He listens and helps me understand. I'm very thankful to him and his team.
---
6/02/2023
Wonderful. Appreciate the great care and concern about my health as I am soon turning 80. Doctor answered ALL my questions
---
Biography
Joseph Foust, M.D., FAAFP, is a board-certified family medicine physician who offers quality, convenient primary care and walk-in care at Baptist Medical Group Family Medicine & Walk-In Care – Navarre. He and his dedicated staff welcome patients with traditional family medicine appointments and online EasySchedule appointments. He is now accepting new patients.
Medical Degree
Marshall University School of Medicine
Huntington, WV
Residency
Mayo Clinic
Jacksonville, FL
Clinical Interest
Metabolic syndrome/insulin resistance
Diabetes and pre-diabetes
Dyslipidemia and non-pharmacologic treatments
Weight loss
Certifications
Fellow, American Academy of Family Practitioners
Board Certified, American Board of Family Medicine
Memberships
American Academy of Family Physicians
American Medical Association
American Diabetes Association