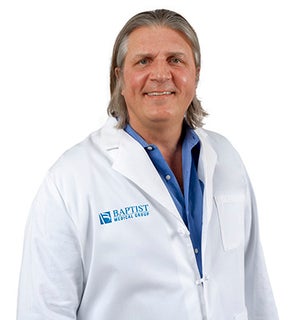 ---
RATINGS & REVIEWS
The provider star rating is calculated using patient reponses to the five care provider questions in our patient satisfaction survey. Below you can see the provider's star rating and the number of his or her patients who have provided feedback.
4.9
Provider discussed treatment options
---
4.9
Provider showed concern
---
4.9
Provider explained things clearly
---
4.9
Provider included you in decisions
---
4.9
Likelihood of recommending this provider
---
---
Comments
3/31/2022
The best thing that ever happened to me was visiting Dr. Foust . He was kind caring incredibly smart very clear on what the next steps were and very interested about my well-being. Clearly one of the top doctors at Baptist
---
3/27/2022
Dr Foust listened to all my concerns and made sure I was comfortable with the answers. He went over all the lab results with me, taking time to explain what they were. He prescribed a pain med which had to be mixed and it has helped immensely with decreasing the pain level
---
3/25/2022
Dr Foust informed me of some information I did not know about . He explained the information to me clearly and made sure that I understood the information .
---
3/25/2022
I like Foust more than my previous doctor, He has a warm personal feeling that helps to put you at ease.
---
3/24/2022
Dr. Fouts was very receptive to my concerns and worries. He made me feel at easy by addressing my concerns and questions. Amazing Doctor
---
3/19/2022
Dr. Faust is down to earth and easy to communicate with.
---
3/18/2022
Dr. Faust's attention to detail was fantastic!He thoroughly reviewed my chart/meds and made suggestions for continued care and improvement of medications.I'm thrilled that he is part of our community and medical care team.I actually called a friend on the way home to share that the care and attention that shown by the entire staff was more than I could have hoped for.
---
3/18/2022
The best Dr ever.
---
3/16/2022
I honestly wish I had Dr Foust before this! One of the best practitioners I have ever met.
---
3/11/2022
I have already, and quit often recommended Dr. Foust. I have never met another doctor that is so genuine and caring. He takes every concern seriously not matter how insignificant it might seem. He answers every question and takes the time to provide quality care and makes certain that I thoroughly understand concerns I bring up at my visit, and informs me of any and all potential treatment plans, and every time I needed to be referred to a specialist for any reason, he has those requests as well as any notes sent to those specialists before I even leave the exam room. I love my doctor, he is truly amazing.
---
3/10/2022
He was very attentive and informative.
---
3/09/2022
Dr. Foust is the best provider I've had since adulthood.
---
3/04/2022
Very Good Dr. All the way around.
---
3/03/2022
Dr Foust listens to my complaints and offers very helpful advise
---
3/03/2022
Dr Foust is amazing. Though it was my first visit, I can feel his genuine care and compassion for his patients. He really listened , asked questions to truly understand. He also has a great personality which can be hard to find in a doctor!
---
3/01/2022
Good
---
2/28/2022
All went well
---
2/28/2022
I had an very good visit
---
2/25/2022
Great doctor!!
---
2/24/2022
Dr. Foust is very informative and caring. Love his sense of humor and wonderful "bedside manner "I'm very very happy to be his patient.
---
Biography
Joseph Foust, M.D., FAAFP, is a board-certified family medicine physician who offers quality, convenient primary care and walk-in care at Baptist Medical Group Family Medicine & Walk-In Care – Navarre. He and his dedicated staff welcome patients with traditional family medicine appointments and online EasySchedule appointments. He is now accepting new patients.
Medical Degree
Marshall University School of Medicine
Huntington, WV
Residency
Mayo Clinic
Jacksonville, FL
Clinical Interest
Metabolic syndrome/insulin resistance
Diabetes and pre-diabetes
Dyslipidemia and non-pharmacologic treatments
Weight loss
Certifications
Fellow, American Academy of Family Practitioners
Board Certified, American Board of Family Medicine
Memberships
American Academy of Family Physicians
American Medical Association
American Diabetes Association