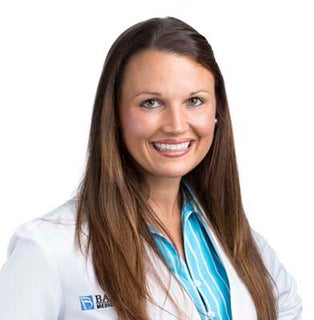 ---
Biography
Kayla Bodree, WHNP-BC, is an advanced registered nurse practitioner who specializes in women's health. She offers routine gynecologic and obstetric care as well as overall women's health care to patients at Baptist Medical Group – Ladies First.
Medical Education
University of South Alabama
Masters of Science in Nursing
Certifications
WHNP – Women's Health Nurse Practitioner Board Certified
Basic Life Support
Neonatal Resuscitation
Lactation Specialist
National Certification in Women's Health
Memberships
American Association of Nurse Practitioners
National Association of Nurse Practitioners
American Nurses Association
Emerald Coast Breastfeeding
Additional Information
To learn more about Kayla Bodree, R.N., MSN, WHNP-BC, and her services, please visit her practice page at BaptistMedicalGroup.org.
Meet your Provider
What led you to become a provider or choose your focus of medicine?
I went into nursing school knowing I wanted to further my education after becoming a registered nurse, but I was not sure what exactly I wanted to do. After completing my OB/GYN rotation I quickly fell in love with women's health, obstetrics, the education that goes with caring for women of all ages, and letting women know the importance of their health. I knew this was God's plan for me. My passion for obstetrics and gynecology led me to become an OB/GYN nurse at Baptist Hospital where I have been for five years. After working for approximately two years on the floor I knew it was time to further my career as a women's health nurse practitioner. Being a mother of a 3-year-old, having gone through a miscarriage, and having GYN issues that I have had to deal with myself will help me to be able to relate to my patients' needs, which is important.
What about your line of work do you find most rewarding and why?
Dealing with obstetric patients I get to be with them when they're undergoing perhaps the happiest, scariest, and most rewarding time in their life. I find it rewarding to walk these patients through preconception counseling, pregnancy and postpartum in order to obtain the healthiest outcome ... a baby! Pregnancy is such a vulnerable time for a woman. Being there for them through every step and answering any questions or fears that they may have is rewarding to me. Knowing that I have touched someone's life or just helped them out is my reward.
What is something about you that only your patients would know?
I am an open book. My patients will know just as much as my friends and/or peers know.
How would a patient describe you?
Patients describe me as being bubbly, personable, easy to communicate with, down to earth and always willing to listen.
What's your proudest moment as a doctor?
My proudest moment as a nurse is hearing patients say "this was the best experience I have ever had" or "because of you I continued to breastfeed my baby." Superior patient satisfaction is always my proudest moment.
In your opinion, what's the most important factor in a provider-patient relationship?
Trust!!
What can a patient expect when they have you as a provider?
High-quality, patient-centered care; trust; and up-to-date evidence-based care.
What do you find most encouraging about the work you do?
The most encouraging aspect of my job is the ongoing education and growth for nurse practitioners in health care.
What are your top priorities with every patient you see?
Of course my top priority is patient safety, but my next priority is developing a close patient/provider relationship with each patient.
Describe one of the top ways you ensure each patient receives the quality, personal health care he/she deserves.
The most important way I will ensure each patient receives high-quality, patient-centered care is by listening to my patients and including each patient in their care.