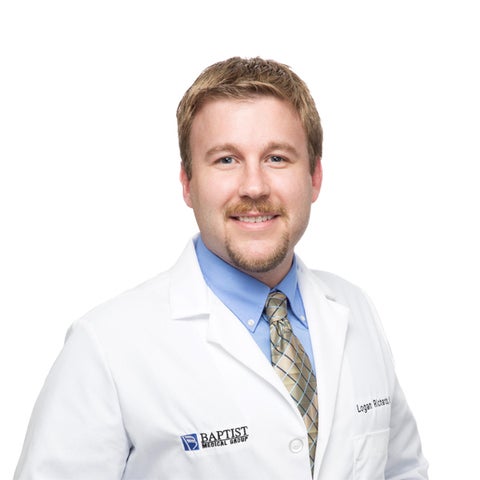 ---
Biography
Logan Richards, M.D., is a highly skilled board-certified internal medicine primary care physician who treats patients 18 and older – providing quality care to the Gulf Coast. He takes the time to get to know his patients and works with them individually to develop a care plan that best meets their condition and needs.
In order to better serve you, Dr. Richards welcomes new patients and offers convenient same-day appointments.
Medical Education
University of South Alabama
Mobile, AL
Residency
Medical University of South Carolina, Charleston, SC
Board Certification
Internal Medicine
Medical Memberships
American Medical Association
American College of Physicians
Medical Research
Rhinocerebral Zygomycosis in man with newly diagnosed diabetes mellitus - accepted to SGIM southern region for poster presentation. 2011
Metabolome Analysis of H.pylori - poster presentation for summer research program. 2005
Expression and purification of echinocandid binding domain of S.cerivisiae, C.neoformans - oral presentation. 2004
Personal Interests
Fishing, boating, playing the piano and activities with his dogs
Meet Your Doctor
What inspired you to become a physician?
I decided to practice medicine because I love working with people and helping them out with their problems. Working as a primary care physician allows me to establish a trusting relationship with each of my patients. This allows me to provide the best care and treatment specifically for them.
How would a patient describe you?
A patient would describe me as thorough, knowledgeable, and attentive. I try to take the time to explain each medical problem to a patient and what I think we can do about it.
In your opinion, what's the most important factor in a doctor-patient relationship?
The most important part of the doctor-patient relationship is trust and communication. We must be able to work together to achieve a common goal of a better quality of life.
What do you find most encouraging about the work you do?
The most encouraging part of my job is seeing a well patient after I have treated them. When someone selects me as their primary care physician that means they trust me to manage any medical problems that may come up in the future.
What are your top priorities with every patient you see?
Each patient should receive prompt, efficient and effective care. Each of their problems should be addressed on multiple fronts including medications, education, and lifestyle changes that will ultimately lead to improvement in their disease.