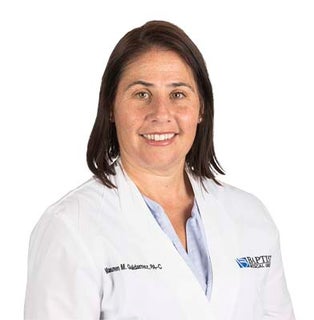 ---
RATINGS & REVIEWS
The provider star rating is calculated using patient reponses to the five care provider questions in our patient satisfaction survey. Below you can see the provider's star rating and the number of his or her patients who have provided feedback.
4.7
Provider discussed treatment options
---
4.7
Provider showed concern
---
4.7
Provider explained things clearly
---
4.7
Provider included you in decisions
---
4.7
Likelihood of recommending this provider
---
---
Comments
3/30/2022
Incredibly knowledgeable, very professional, very attentive and caring for my health, amazingly thorough, a first rate health Practitioner
---
3/28/2022
Seemed rushed. I didn't get to address everything I wanted to
---
3/22/2022
She always gives an explanation on medication as it relates to my conditions.
---
3/17/2022
Very empathetic and a real concern for my health - I appreciate that experience.
---
3/09/2022
She has always been outstanding.
---
3/06/2022
Maureen is always very attentive
---
2/28/2022
Love Maureen. She is always in tune with you and never makes me feel rushed or dismissed in any issues I might be having.
---
2/24/2022
This PA was excellent. First time meeting her and she was very professional and very very understanding and helpful.
---
2/19/2022
PA very concerned very helpful when asked about another problem said call her if I had any questions
---
2/18/2022
She was good but she talks too fast and needs to slow down a bit.
---
2/10/2022
Mareen scheduled me for a test that I have been waiting to ask her about before I mentioned it. I really liked that she showed concern.
---
2/05/2022
My PA has always listen to my concerns or suggestions. We have a very good PA/patient relationship.
---
Biography
Maureen Galdamez, PA-C, is a certified physician assistant who sees patients at Baptist Medical Group Family Medicine – Westside. She and her team are dedicated to providing exceptional care. She welcomes new patients.
Medical School
Masters of Physician Assistant Studies
Shenandoah University
Winchester, VA
Masters of Zoology and Physiology
University of Wyoming
Laramie, WY

Certifications
National Commission on Certification of Physician Assistants
Meet Your Provider
What led you to choose your focus of medicine?
Serving others.
What about your line of work do you find most rewarding and why?
Watching people get better.
How would a patient describe you?
Caring.
In your opinion, what's the most important factor in a doctor-patient relationship?
Trust.
What can a patient expect when they have you as a doctor?
Efficiency.
What do you find most encouraging about the work you do?
Thankfulness of patients.
What are your top priorities with every patient you see?
Respect.