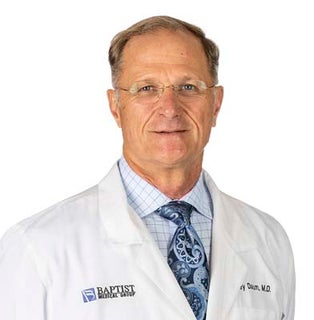 ---
RATINGS & REVIEWS
The provider star rating is calculated using patient reponses to the five care provider questions in our patient satisfaction survey. Below you can see the provider's star rating and the number of his or her patients who have provided feedback.
4.7
Provider discussed treatment options
---
4.7
Provider showed concern
---
4.7
Provider explained things clearly
---
4.7
Provider included you in decisions
---
4.7
Likelihood of recommending this provider
---
---
Comments
3/25/2022
Dr Daum at one time thought I may have Lupus, but after 1.3 years of doing nothing else, I am not sure if I have it or not, so I take my Norco for my arthritis and nothing else has been done in regards to my theoretical Lupus and nothing is done for my arthritis either. I'm about to give up on those "practicing" medicine.
---
3/18/2022
I always recommend my Dr. And/or his office.
---
3/16/2022
Dr. Daum and his associates everybody at in his practice is very professional and courteous and they're always very sanitary I recommend this practice all the time
---
3/11/2022
DR DAUM SIMPLY STATED IS GREAT I USE [...] MOST OF THE TIME , I SEE DR DAUM TWICE A YEAR , IF [...] IS SLOW OR I HAVE QUESTIONS I SEE DR DAUM, AS I HAD TO LAST YEAR TO WITH KIDNEY STONE AND BAPTIST UIRLOGIST TOOK CARE OF THE PROBLEM IMMEDIATELY
---
3/11/2022
Dr Daum has taken care of me over the years. I trust his judgement .
---
3/10/2022
I will recommend them but not to too many people because that will take away from me
---
3/09/2022
Dr. Daum is exceptional.
---
3/09/2022
Pleasant
---
2/27/2022
Dr Daum is wonderful! He always listens and works to solve the problem... He is better than 5 cardiologist in solvingMy heart problems... He is a genius! We thank God for him every day
---
2/25/2022
Excellent, informative visit
---
2/01/2022
I don't have to ever worry about nothing cuz my health care providers always help me out and if I've got a question I can ask and they always get back in touch with me as soon as they can
---
Biography
Dr. Daum is a board-certified family medicine physician with over 35 years of experience in medicine. He currently works with nurse practitioner, Lauren Sauve' and physician assistants Cynthia Thomson and Maureen Galdamez to provide health care to the entire family and to patients of all ages. He welcomes new patients.
Dr. Daum retired as Captain, Medical Corps, United States Navy, in 1998. His career included service as the Senior Medical Officer of an aircraft carrier, the USS Lexington (AVT-16). He was awarded the Meritorious Service Medal for his service as the Medical Director of the Naval Hospital, Subic Bay, Republic of the Philippines and again as Medical Director, Naval Hospital Pensacola.
As a leader at Baptist Health Care, he serves on the Physician Practice Leadership Committee and the Clinical Practice Committee.
Medical Education
Bowman Gray School of Medicine
Wake Forest University
Internship
Surgery, Naval Hospital-Portsmouth
Portsmouth, VA
Flight Surgeon
Naval Aerospace Medical Institute, Pensacola, FL
Residency
Naval Hospital
Pensacola, FL
Board Certification
American Academy of Family Physicians