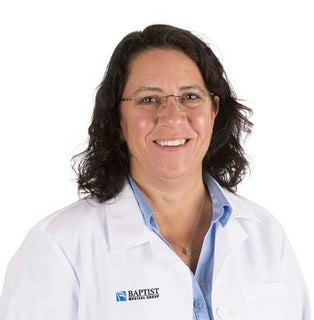 ---
Biography
Pamela Schurman, D.O. is an experienced board certified general surgeon who offers comprehensive general surgical treatments for a full range of conditions. As a longtime resident of Santa Rosa County and physician in the area, Dr. Schurman looks forward to continuing her mission to provide quality care and compassion to her patients and community.
Meet Your Doctor
Medical Degree
Kirksville College of Osteopathic Medicine
Kirksville, Missouri
Residency
Doctors Hospital
Columbus, Ohio
Memberships
American Osteopathic Association
American College of Osteopathic Surgeons
Florida Osteopathic Medical Association
Additional Information
To learn more about Dr. Schurman and her services, please visit her practice page, Baptist Medical Group – Surgery.
Meet your Doctor
What led you to become a doctor or choose your focus of medicine?
General surgery drew me in because I like to fix things and I am mechanically minded.
What about your line of work do you find most rewarding and why?
In surgery you usually get to leave people better than they started.
How would a patient describe you?
Relatable, I try to talk to them like I would a friend.
What's your proudest moment as a doctor?
There have been a few cases where the trajectory of someone's life was changed and its usually just because we listened.
In your opinion, what's the most important factor in a doctor-patient relationship?
Trust – In both directions.
What can a patient expect when they have you as a doctor?
Honest answers.
What are your top priorities with every patient you see?
To get to the bottom of the problem, not just be a technician.
Describe one of the top ways you ensure each patient receives the quality, personal health care he/she deserves.
We have very open communication at the office and everyone is aware of what is going on.
Do you have any specific medical interest?
Breast care