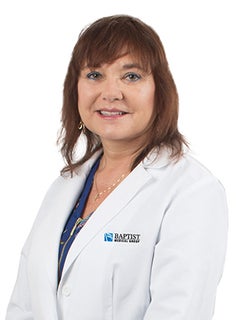 ---
Biography
Patti King-Warner, R.N., BSN, CDE, is a diabetes nurse specialist with Baptist Medical Group – Endocrinology. She is devoted to the care of patients with diabetes and works to educate them so they can live a healthy and productive life.
Medical Degree
Bachelor of Science, Nursing
The University of Alabama at Birmingham
Birmingham, AL
Certifications
Diabetes Educator
Memberships
American Diabetes Association
American Association of Diabetes Educators
Gulf Coast Association of Diabetes Educators
Clinical Specialties
Diabetes Management
Education
Meet the Provider
What led you to become a diabetes educator?
I received my bachelor degree from the University of West Florida in health education, and my nursing degree from the University of Alabama at Birmingham. I've always been focused on the importance of education and how it can empower patients to take better care of themselves, so that they may live a longer, healthier life! The education department requested my help to educate patients during my second year of being hired at the hospital, I was teaching head and spinal cord prevention and diabetes education classes for outpatients and hospital patients. I fell in love with diabetes education and the difference it can make in a person's life. My family has a very strong history of Type 2 Diabetes, and I had a mission to help them and all people with diabetes, live longer and with less complications! I help care for my mother who has had diabetes for 12 years and I'm proud to say she is 84 and doing well!
What about your line of work do you find most rewarding and why?
I find helping patients and their families understand how to care for their disease or illness, and reassuring them that we can work together to find the best way to care of their disease or illness and prevent complications is the best reward.
What is something about you that only your patients would know?
I sincerely care for them; we will cry together, laugh together and learn from one another. My patients teach me everything!
How would a patient describe you?
Caring, smart, determined, energized.
What's your proudest moment as a diabetes educator?
When I can get a person to understand what diabetes means and not to hate the word. I want them to know that this a disease that they can live with, and it does not have to take over their every thought. Every time I can get a patient to control their A1C level better, eat a little healthier and become more active they appear so much happier.
What can a patient expect when they have you as their educator?
I will always do my best and be available for questions and followup.
What do you find most encouraging about the work you do?
I love being a nurse and helping patients, families and the community; there is no better job!
What are your top priorities with every patient you see?
They will understand why they have diabetes and, how to take better care of themselves.
Describe one of the top ways you ensure each patient receives the quality, personal health care he/she deserves.
Providing engagement with the patient that includes resources that are easy to understand and colorful.
Is there anything more or extra you would like prospective patients to know about you?
Patients come first, always.
Do you have any specific medical interests?
Diabetes and all complications related to diabetes, heart, vascular, obesity and kidney disease. I really just love all biology and science topics.