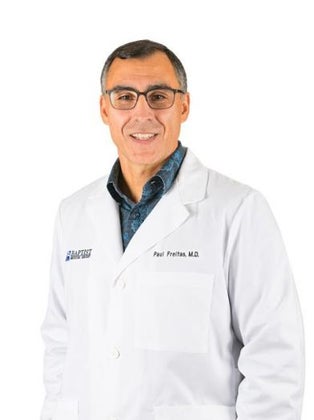 ---
RATINGS & REVIEWS
The provider star rating is calculated using patient reponses to the five care provider questions in our patient satisfaction survey. Below you can see the provider's star rating and the number of his or her patients who have provided feedback.
4.8
Provider discussed treatment options
---
4.8
Provider showed concern
---
4.8
Provider explained things clearly
---
4.8
Provider included you in decisions
---
4.8
Likelihood of recommending this provider
---
---
Comments
3/23/2022
Good
---
3/23/2022
The exam was not very thorough and Dr. Frietas seemed to rush through the process. He didn't really listen to me and noted items incorrectly in my chart.
---
3/07/2022
I will recommend Dr. Paul whenever I am asked my friends for a good GP
---
3/03/2022
I was referred by the [...]n family and I will continue the recommendations. I felt comfortable and supported. Thank you.
---
3/01/2022
Awesome experience. Very helpful.
---
2/25/2022
I was running late for the appointment so the doctor did not have time to address my concerns thoroughly.
---
2/25/2022
Dr Paul Freitas is fantastic!
---
2/25/2022
Dr Paul Freitas - the BEST. He is always attentive, compassionate, no-nonsense.
---
2/16/2022
I love Doctor Freitas, he is so personable and made me feel so comfortable and at ease and [...] from the lab was awesome, informative and efficient with my labs
---
2/16/2022
Great
---
2/15/2022
I will always stay with this office
---
2/11/2022
It was my understanding the NP would call me regarding referrals after speaking with the Dr. To date, I have received no followup on referrals.
---
2/01/2022
Dr. Paul is GREAT
---
2/01/2022
I always recommend Dr Paul and [...] to anyone who is looking for a GP
---
Biography
Dr. Paul Freitas is a board-certified family medicine physician and a member of the American Academy of Family Practitioners. Dr. Freitas, formally of FirstPhysicians Group, joined Baptist Medical Group in the spring of 2011. His office is conveniently located within Baptist Medical Park - Nine Mile in Pensacola. He welcomes new patients.
Medical Education
Uniformed Services University of the Health Sciences, Bethesda, MD
Residency
Eglin Air Force Base
Board Certification
American Board of Family Practice
Medical Memberships
American Academy of Family Practitioners