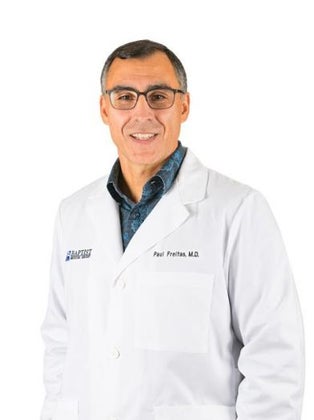 ---
RATINGS & REVIEWS
The provider star rating is calculated using patient reponses to the five care provider questions in our patient satisfaction survey. Below you can see the provider's star rating and the number of his or her patients who have provided feedback.
4.8
Provider discussed treatment options
---
4.8
Provider showed concern
---
4.8
Provider explained things clearly
---
4.8
Provider included you in decisions
---
4.8
Likelihood of recommending this provider
---
---
Comments
1/28/2023
Dr freitos was very informative explained any questions that I had. Gave me most up-to-date available treatment info. Makes you feel at home
---
1/27/2023
Dr. Paul Freitas is the best doctor I have ever had. And his nurse [...] is awesome also.
---
1/20/2023
Dr Freitas is both an excellent listener and communicator.
---
1/06/2023
Dr Paul Freitas answered all of my questions after listening to my list of concerns. He understood my issues and is helping me to get the care needed. Very courteous and professional.
---
12/22/2022
Dr. Freitas is by far the best physician I've ever had.
---
12/18/2022
Already have recommended Dr. Freitas. He is phenomenal!
---
12/06/2022
Dr Freitas is a fantastic & very caring doctor. Everyone I know that goes to him says that he is a great very caring doctor.
---
11/25/2022
Doc is Awesome!
---
11/20/2022
Very good doctor
---
10/30/2022
Felt cared for
---
10/30/2022
I couldn't have asked for a more caring and helpful doctor. I felt so much better after my appointment.
---
10/21/2022
Considering my condition and it being my first visit, I was blown away by how Dr Freitas made me feel throughout my visit.
---
10/20/2022
Never had issues with this doctor or his office!
---
10/13/2022
Dr Freitas is awesome. I would highly recommend him to anyone.
---
8/17/2022
Dr Freitas was detailed and to the point. He listened to every concern and gave me realistic advice. He related myHealth concerns to his life. He made me feel very heard and comfortable unlike most doctors in Pensacola.
---
8/16/2022
Best Primary Dr I've Found. Will share with eveyone great experience
---
8/12/2022
Very knowledgeable and professional with patients
---
8/11/2022
Dr Freitas is great. One of the best doctors I have ever seen!
---
8/03/2022
Good
---
8/03/2022
Good
---
Biography
Dr. Paul Freitas is a board-certified family medicine physician and a member of the American Academy of Family Practitioners. Dr. Freitas, formally of FirstPhysicians Group, joined Baptist Medical Group in the spring of 2011. His office is conveniently located within Baptist Medical Park - Nine Mile in Pensacola. He welcomes new patients.
Medical Education
Uniformed Services University of the Health Sciences, Bethesda, MD
Residency
Eglin Air Force Base
Board Certification
American Board of Family Practice
Medical Memberships
American Academy of Family Practitioners