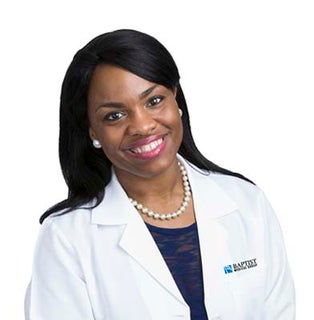 ---
Biography
Dr. Regina McCutcheon is a highly skilled OB/GYN physician who specializes in women's health. She has a passion for women's health care and provides gynecologic and obstetric care to women of all ages and risk levels. Dr. McCutcheon is currently welcoming new patients.
Medical Degree
Tulane University School of Medicine
New Orleans, LA
Residency
Louisiana State University School of Medicine
Baton Rouge, LA
Certification
American Board of Obstetrics and Gynecology

Clinical Interest
Menopausal symptoms
Uterine Fibroids
Sexually Transmitted Diseases
Pre/Post-Partum Depression
Menstrual Cycle complications
Memberships
American Medical Society
American College of Obstetrics and Gynecology
Meet your Doctor
What led you to become a doctor or choose your focus of medicine?
Women's health has always struck me as something beautiful, unique and enriching. As a child becoming a doctor was a fleeting thought. However, growing up around teens experiencing motherhood and women grappling with their health, confirmed Obstetrics and Gynecology as my calling.
What about your line of work do you find most rewarding and why?
The infamous "Ah-ha" moment! I love when I'm able to convey to a patient, how her body works and answer her questions.
How would a patient describe you?
Listens, knowledgeable, caring, authentic, funny. Most recently, a patient of mine told me, "You're the coolest doctor I know!"
What's your proudest moment as a doctor?
I performed an emergency surgery to save a woman's life. Afterwards, I had to tell her about the organs she had lost and why. While difficult to experience, this woman was thankful and allowed me to help her move forward.
In your opinion, what's the most important factor in a doctor-patient relationship?
Transparency. Sure, many women come to the doctor just for a well woman's exam or a mammogram. However, I have found that once a patient knows that I'm here to help her, she feels comfortable sharing those things that may be affecting her quality of life. This results in my ability to empower her with the tools necessary to live well.
What can a patient expect when they have you as a doctor?
Excellence and education. And of course – a southern belle wearing pearls around her neck and a smile on her face.
What do you find most encouraging about the work you do?
My love for people has allowed me to break down cultural norms and enhance my relational, clinical, and education skill set. I am encouraged in knowing that my life and work makes sense.
What are your top priorities with every patient you see?
I want every person that I see, to leave better than they came.
Describe one of the top ways you ensure each patient receives the quality, personal health care she deserves.
I look and listen – I address the whole patient, focus problems and provide solutions.