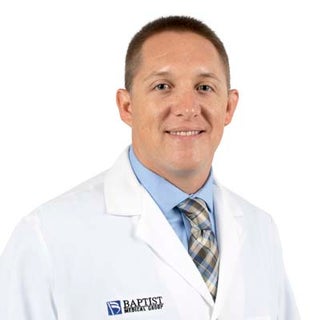 ---
RATINGS & REVIEWS
The provider star rating is calculated using patient reponses to the five care provider questions in our patient satisfaction survey. Below you can see the provider's star rating and the number of his or her patients who have provided feedback.
4.8
Provider discussed treatment options
---
4.8
Provider showed concern
---
4.8
Provider explained things clearly
---
4.8
Provider included you in decisions
---
4.9
Likelihood of recommending this provider
---
---
Comments
5/26/2022
P.A. Travis Godbey always makes me feel very comfortable and at ease And he is kind, caring, patient and super informative and has just the right amount of sense of humor.
---
2/25/2022
Good
---
2/10/2022
Felt listened to and cared for.
---
Biography
Travis Godbey is a certified physician assistant who offers quality neurosurgical care to patients on the Gulf Coast. He welcomes new patients at his office located in Pensacola.
Medical Degree
Mountain State University,
Beckley, WV
Certifications
National Commission of Certification of Physician Assistants
Wilderness Medicine Provider
Memberships
Fellow, American Academy of Physician Assistants
American Association of Neurological Surgeons
Florida Academy of Physician Assistants
Meet your Provider
What led you to become a provider or choose your focus of medicine?
I have chosen neurosurgery because I am fascinated with the central nervous system.
What about your line of work do you find most rewarding and why?
Being able to see patients improve after presenting with neurological deficits is very rewarding to me, it's why I do what I do.
What is something about you that only your patients would know?
They know I'm going to take time for them.
How would a patient describe you?
Caring, Attentive, Personable
In your opinion, what's the most important factor in a provider-patient relationship?
Communication and Trust
What can a patient expect when they have you as a provider?
They will be cared for with the utmost respect.
What are your top priorities with every patient you see?
Improvement of health & quality of life.
Describe one of the top ways you ensure each patient receives the quality, personal health care he/she deserves.
Making sure all health issues are addressed.