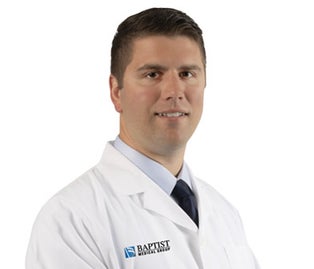 ---
Biography
Dr. William Dillen is a highly trained neurosurgeon who is dedicated to providing exceptional care to his patients. He offers patients an array of advanced treatment options for complex brain, spine, and peripheral nerve conditions or injuries. He is currently accepting new patient appointments.
Medical Degree
West Virginia University School of Medicine
Morgantown, WV
Residency
University of Kentucky Department of Neurosurgery
Lexington, KY
Memberships
Congress of Neurological Surgery
American Association of Neurological Surgery
Southern Neurosurgical Society
Clinical Specialties
Minimally invasive spine surgery
Complex spine surgery
Cranial surgery
Peripheral nerve injury
Publications:
Dillen W, Pittman T, Grupke G. (2018). Novel Temporary Treatment for a Severe Case of Syndrome of the Trephined. World Neurosurgery. 120, 200-204.
Dillen W, van Horne C, Fraser J. (2018). Novel Approach to the Treatment of a Cerebral Abscess Using the Apollo Vibration/suction Device. J Clin Neurosci, 55, 93-96.
Dillen W, Hendricks B, Mannas J, Wheeler G. (2018). Surfer's Myelopathy: A Rare Presentation in a Teenage Gymnast and Review of the Literature. J Clin Neurosci, 50, 157-160.
Dillen W, Vasquez R. (2017). C2/3 Anterior Cervical Discectomy Module. CNS Nexus Case Modules.
Sedney CL, Dillen W, Julien T. (2015). Clinical Spectrum and Radiographic Features of the Syndrome of the Trephined. J Neurosci Rural Pract, 6, 438-41.
MEET THE DOC
What led you to become a doctor or choose your focus of medicine?
I've always liked science, technology, and art. Neurosurgery allows me to help people while using cutting edge science and groundbreaking technology, all the while applying an artistic approach to surgery.
What about your line of work do you find most rewarding and why?
As a neurosurgeon, you often meet people during the worst time of their life. Having the opportunity and ability, during this time, to intervene, help a patient recover, and return to a normal life is very rewarding.
What is something about you that only your patients would know?
I treat and take care of patients how I would want my family to be treated.
How would a patient describe you?
Professional, Meticulous, Thorough, and Respectful
What is your proudest moment as a doctor?
My proudest moments are when I see patients back in the clinic who are back to living a normal life.
In your opinion, what is the most important factor in a doctor-patient relationship?
Trust is the most important. Trust comes from good communication, allowing the patient and doctor to work as a team to come up with a treatment plan.
What can a patient expect when they have you as a doctor?
My patients can expect me to provide the best care and perform surgery in a way that I would want to be done for my own family.
What do you find most encouraging about the work you do?
As a neurosurgeon, I am able to make a big impact on many of my patients' lives. As technology continues to advance, I believe the ability to help even more patients will become possible in the future.
What are your top priorities with every patient you see?
My top priorities are to accurately diagnose and treat the patient's problem while maintaining respect and trust throughout the process.
Describe one of the top ways you ensure each patient receives the quality, personal health care he/she deserves.
I maintain good communication and draw from my colleagues in neurosurgery and other fields to deliver the best patient-centric care possible.
Is there anything more or extra you would like prospective patients to know about you?
I am grateful for people trusting me to take care of them and their loved ones. I will work tirelessly to provide those in need with the best possible care.