Alzheimer's Disease and Brain Health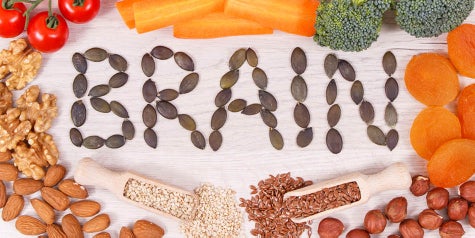 - 11/15/2019
Alzheimer's disease is a type of brain disease, and it is a degenerative disease that gets worse with time. Alzheimer's is the sixth leading cause of death in the U.S., and Florida has the second largest prevalence of population having Alzheimer's. According to statistics in a report from Alzheimer's Association, it is thought to begin 20 years or more before symptoms arise. You can help boost brain health with five lifestyle tips. Tips include breaking a sweat, following the heart, fueling up right, taking care of mental health and buddying up regularly.

Exercise
People can reduce their risk of cognitive decline by breaking a sweat or moving more. Engage in regular cardiovascular exercise (walking, biking or swimming) that elevates your heart rate and increases blood flow to the brain and body. Being physically active helps reduce risk of cognitive decline.

Heart
Cardiovascular disease and stroke along with obesity, high blood pressure and diabetes could negatively impact a person's cognitive health. The heart and brain are related, so take care of your heart so your brain can follow.

Nutrition
Another way to lower risk of brain decline is to eat a healthy and balanced diet that limits red meats, saturated fats and sweets. Although research on diet and cognitive function are limited, certain diets, including the Mediterranean-DASH diet (Dietary Approaches to Stop Hypertension) may contribute to risk reduction. This way of eating includes lots of green leafy vegetables, berries, whole grains, lean protein like fish and chicken along with beans and nuts. Scientists believe that eating the right foods can fuel the brain, keeping it sharper.

Mental Health
Mental health is vital to a healthy brain. Regular dealings with depression, anxiety and worry can lead to a decline in the mind. Managing stress is also important so that it does not lead to physical damage of the brain or body. Find a way to de-stress and unwind each day. This can be taking time to stretch, turn off electronic devices, journaling, exercising, meditation, praying or doing an activity that brings you peace. Organizations such as Lakeview Center are here if you need help.

Connect with Others
Staying socially engaged can help support brain health. To keep your brain active, pursue social activities that are meaningful. Find ways to be part of your local community. For example, if you love animals, consider volunteering at a local shelter. If you enjoy singing, join a local choir. Find your passion and pursue it in a social way. Share activities that you enjoy with friends and family. Connecting with others may keep the brain more connected to you.

We hope these tips help you learn more about Alzheimer's disease, boost your brain and cause you to take action about your overall health. Learn more about neurology services at Baptist Heath Care.


Categories:
---
Related Articles: