Lung Cancer Screenings - What You Need to Know
eBaptistHealthCare.org uses cookies to improve your experience and to support our mission of helping people throughout life's journey.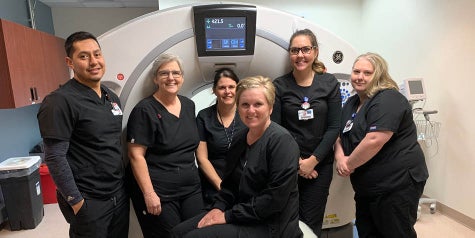 Each year, more people die of lung cancer than of colon, breast and prostate cancer combined. Why? As with many cancers, early stage lung cancer may show no signs or symptoms. Early detection can improve outcomes.

Studies have shown that lung cancer screenings performed for high risk patients before symptoms are present can help reduce risk and find lung cancer early. When lung cancer is found early, it is easier to treat and more likely to be cured. Lung cancer screening might also reveal other conditions or diseases that need to be treated.
Is lung cancer screening right for me?
Annual screening is recommended for individuals whose age and smoking history place them at a higher risk for lung cancer. High risk is defined as having at least a 30 pack year* smoking history and currently smoke or have quit within the last 15 years. Most commercial insurances cover individuals ages 55–80, while Medicare covers those ages 55–77.
* One pack per day for 30 years or two packs a day for 15 years
What should I expect during the screening?
A machine called a CT scanner takes 3D X-ray pictures of your lungs using a small amount of radiation (called a low dose CT). This level of radiation is more than a chest X-ray but is much lower than other types of CT scans. This screening test for lung cancer is quick and painless. It requires no needles or dye. Typically, your clothing can be left in place, and there is no need to limit eating or drinking prior to the test. Lung cancer screening takes about 10 minutes, and the actual scan only takes a few seconds.
How often should I be screened?
Lung cancer can be aggressive and advance quickly between stages. This is why it is important to be tested every year until you are out of the recommended age range or for as long as your doctor recommends. Regular screenings will let your doctor see if spots in your lungs are stable or whether any changes over time may be more suspicious for cancer. Screening for lung cancer before symptoms appear is important. Without it, most people do not see signs of the disease until it has spread to other areas of the body, making it harder to treat. Talk to your doctor about the results of your screening to determine what you need to do next.
What will happen if something is found?
Your health care provider who ordered the CT lung screening will receive the results. A nurse navigator will work with your provider to arrange any follow-up tests and guide you through the appropriate testing and treatment, if needed.
For questions or further information regarding lung cancer screening at Baptist Health Care, please contact 850.469.2220.