Voices in Action: Baptist Hospital, 4 East Medical Respiratory Unit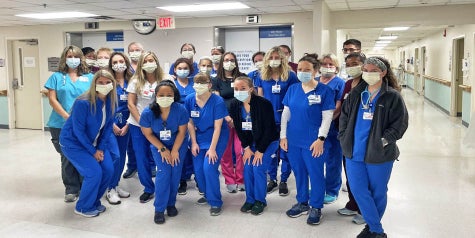 Team members on 4 East at Baptist Hospital care for medical respiratory patients, including those with COVID-19. Few people can fully understand what this group of nurses faced during the pandemic, and we want to recognize them for their courage and dedication to their patients.
At the start of the pandemic, Baptist Hospital combined two floors to create the Medical Respiratory Unit, the wing that would accommodate the surging number of COVID-19 patients. "We united as a team, more like a family, to care for each sick patient," said Alaina Wright, clinical manager of 4 East. "We educated ancillary team members, direct care team members, patients and adhered strictly to the necessary isolation requirements to prevent the spread of the virus to the outside their families population."
The 4 East team held the Value of Ownership to strictest level by taking care of the sickest patients ever encountered at Baptist and seeking out additional information about COVID-19. Through Values of Integrity and Compassion, they provided excellent care to each patient and family member. They provided much needed input on new policies and procedures being developed to handle COVID-19. The 4 East team also took great initiative by improving processes on their unit. They developed a Rapid Response Team supplies box and an extra personal protective equipment, or PPE, box. They also implemented a "spotter," a role created when someone is called in after the Rapid Response Team or a Code Blue is called to ensure PPE is removed correctly after an intense situation, and the buddy system was used for collecting specimens to ensure accuracy and decrease contamination.
A common misconception about work on the 4 East unit is that if a float nurse is assigned to the unit, they will automatically be assigned to care for patients with COVID-19. This is not the case. Float nurses assigned to 4 East will be assigned to care for medical surgical patients, not patients with COVID-19. The team on 4 East wants team members to know that when a visit to the Medical Respiratory Unit is needed, team members will be welcomed with open arms. The team on 4 East will ensure safety around the COVID-19 containment area and will educate team members on any processes that may differ from other units.
Baptist Health Care continues to live out its Mission of helping people throughout life's journey despite the many challenges our teams have recently faced. Baptist is proud that the team on 4 East has represented Baptist well and continues to care for some of our most vulnerable patients. Thank you for acting out and living our Mission, Vision and Values!