Baptist Medical Group - Hematology & Oncology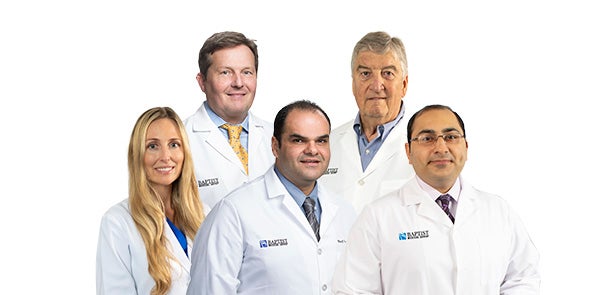 New Patient Paperwork
DEPARTMENT OF BAPTIST HOSPITAL
At Baptist Medical Group – Hematology - Oncology, our physicians provide attentive and professional care, take the time to listen to your questions and provide you and your loved ones with clear answers. Our staff is courteous, dedicated and always working to put you, our patient, first.
When it comes to referrals, patient referral contact is initiated the same day it is received to ensure all patients receive the care they need in a timely fashion. Likewise, appointments are usually offered within 48 hours, if not sooner. Our caring team of physicians also provide services in Gulf Breeze.
Medical Services
We strive to provide full medical support to every patient undergoing treatment by providing state-of-the-art medical care in a caring environment. Once treatment is completed, we provide proper follow-up to ensure patients remain in their optimal condition. Our physicians maintain close communication with referring physicians to enable completeness inpatient care.
Our Physicians
The expert, caring physicians of Baptist Medical Group – Hematology-Oncology include:
Janelle Bennett, M.D.
Sherif Ibrahim, M.D.
Syed Imran Jafri, M.D.
We encourage you to get to know your doctor by visiting his or her profile page.
Our Staff
While at our office, you'll meet with several of our staff members. Our front-office staff will help you get settled and complete your paperwork. They'll also see that our clinical staff know of your arrival and can start your care. A member of our team will personally escort you to an exam room and ask you a few medical history and office-visit related questions in preparation for your meeting with your physician.
New Patients
We're so happy to have the opportunity to provide you with the compassionate, personal health-care experience you deserve. To ensure you have a pleasant first office visit, we ask that you please download and complete your new-patient paperwork prior to your appointment. Bring the completed paperwork along with the items provided in the "What to Bring" section below. Please also be sure to review the full "Appointment Information" section. As always, you can contact our office with any questions.
Appointment Information
Please give 24-hour notice if you are unable to keep an appointment. If you are a new patient, arrive 15 minutes prior to your scheduled time. Bring insurance cards as well as current list of medications.
Financial Information
We accept Medicare, Medicaid, Blue Cross Blue Shield of Florida and Alabama, Aetna, Health First Network, Humana, PHCS, Tricare, and United Healthcare.
It's our policy that co-payments, co-insurance, deductibles and any outstanding balances are due at the time of service. This means that you will be expected to pay those items (as defined by your insurance policy) while at our office for your scheduled appointment. For your convenience, we accept payments in cash, check or credit card.
It's important to note that you are financially responsible for the care you receive, even if your insurance does not pay. If you have questions, we encourage you to contact our office and our staff will do everything we can to serve you.
Referring To Our Practice
Order Facilitator is preferred for referrals, however, we gladly accept fax and phone referrals with demographics, insurance/authorization information, reports and physician dictations. Physicians or office staff may call 850.469.7975 or fax the information to 850.469.2113.
Your Primary Care Physician
We value your relationship with your primary care physician and want to ensure that he or she stays actively involved and informed of every step of your health care journey. We'll be sure to communicate with your primary care physician and keep him or her as the leader of your health care team.
If you do not have a primary care physician, we will gladly help you find one that best meets your individual needs. We also encourage you to see if a Baptist Medical Group internal medicine or family medicine practice location is near you.
Community Involvement
As part of Pensacola's only community-owned health-care organization, it's in our hearts to care for our community. The physicians, staff and affiliates dedicate countless hours to provide free screenings, free educational seminars, special fundraising events and more.