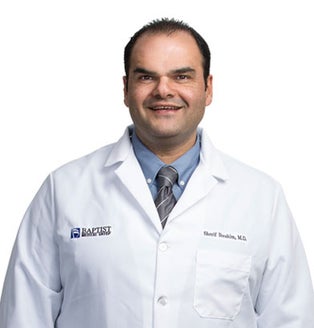 ---
Biography
Dr. Sherif Ibrahim is a fellowship-trained member of Baptist Medical Group's oncology team. He became an oncologist because he wanted to touch people's lives and help them during a difficult time. You can count on Dr. Ibrahim to get to know you and treat you – the person – and not just the disease. He welcomes new patients in Pensacola and Gulf Breeze.
Medical Education
Alexandria University, Egypt
Residency
Internal Medicine, University of Arkansas for Medical Science
Little Rock, AR
Fellowship
Hematology-Oncology, University of Arkansas for Medical Science
Little Rock, AR
Board Certification
Internal Medicine
Hematology-Oncology

Meet your Doctor
What led you to become a doctor or choose your focus of medicine?
To touch people's lives during a hard phase of their life. I lost my parents to cancer, so I understand the impact of the diagnosis and treatment on the patients and their families. It helps me to see the need of my patients and do my best to help them through this difficult experience.
What's your proudest moment as a doctor?
When I help my patient to achieve his or her goal.
In your opinion, what's the most important factor in a doctor-patient relationship?
Clear, constant and honest communication that leads to trust.
What do you find most encouraging about the work you do?
I am so encouraged by all the advances in the field of Hematology-Oncology – the new supporting drugs that help the patients tolerate the chemotherapy with minimal side effects, the new targeted therapy, and the advances in the diagnostic tools.
What are your top priorities with every patient you see?
To get to know the people I care for and meet. To treat the patients, not just the disease.