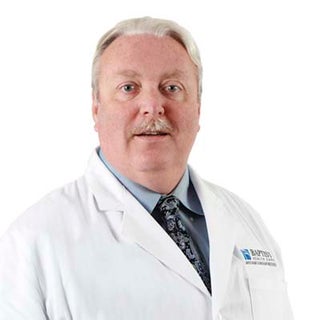 ---
Biography
Doug Baker, PA-C is an experienced physician assistant who provides care to patients at Baptist Heart & Vascular Institute and Cardiology Consultants. He works closely with his patients to provide a care plan that best meets their need.
Medical Education
University of Nebraska
Omaha, NE
Certifications
National Commission on Certification of Physician Assistants
Clinical Specialties
Cardiac Electrophysiology
Cardiovascular Disease

Meet the Provider
What about your line of work do you find most rewarding?
Helping people.
What is something about you that only your patients would know?
I hope that everyone I meet finds me considerate and caring.
How would a patient describe you?
Friendly and personable.
What is your proudest moment as a physician assistant?
When I received my master's degree.
In your opinion, what's the most important factor in an advanced practitioner-patient relationship?
Trust.
What can a patient expect when they have you as a physician assistant?
A quality, caring provider.
What do you find most encouraging about the work you do?
Helping people.
What are your top priorities with every patient you see?
Meeting their needs.
Describe one of the top ways you can ensure each patient receives the quality personal health care he/she deserves.
Thorough documentation.
Do you have any special medical interest?
Tobacco cessation.