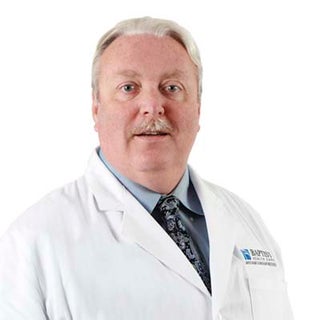 ---
RATINGS & REVIEWS
The provider star rating is calculated using patient reponses to the five care provider questions in our patient satisfaction survey. Below you can see the provider's star rating and the number of his or her patients who have provided feedback.
4.8
Provider discussed treatment options
---
4.8
Provider showed concern
---
4.8
Provider explained things clearly
---
4.8
Provider included you in decisions
---
4.8
Likelihood of recommending this provider
---
---
Comments
7/28/2022
Great PA, very informative, polite, knowledgeable and has shown more concern then anyone before.
---
7/07/2022
They were very prepared and ready to help me.
---
6/25/2022
gpod
---
6/11/2022
Explanations were answered quickly and I need more detail.
---
6/09/2022
I have gone to Mr Baker for a number of years and he has always been very informative and concerned.
---
6/08/2022
Doctor explained every concern I had . Very clear and used simple words that made it easier to understand.
---
5/27/2022
Kudos to all
---
5/23/2022
I will never see him again he was very rude he wouldn't let me talk and when my husband tried to tell him about me. He wouldn't listen and just walk out in my 0pinon I would give him an F. [...]
---
5/19/2022
Very happy and thankful for my good care at Baptist Health Care.
---
5/09/2022
P.A. Doug Baker was very helpful during this visit with info concerning my recent watchman implant procedure. [...]
---
5/07/2022
I just love Doug. He's very friendly, enthusiastic and genuinely seems to enjoy his work. He puts me at ease, which for someone with anxiety as I have, is very important to me.
---
5/04/2022
Great listener!
---
4/23/2022
I have told other friends about your great care that you provide
---
4/23/2022
Like I said earlier, Doug Baker was the best at making me feel comfortable and told me right away that what I had was not life threatening which was a great relief. He did call [...] to talk about the next step. Was great that I found out everything at this visit and did not have to wait to find out.
---
4/17/2022
Great experience Doug is Great
---
4/11/2022
Great, Great and GREAT.
---
4/05/2022
Dr Baker cares and makes sure you get best of care
---
3/29/2022
Please be more specific about when to do lab test, blood work, etc instead of saying "a little while before your next visit". I don't know if "a little while " means a couple of days, a week, etc.
---
2/28/2022
All Good
---
2/24/2022
I hope I get the same PA next time.
---
Biography
Doug Baker, PA-C is an experienced physician assistant who provides care to patients at Baptist Heart & Vascular Institute. He works closely with his patients to provide a care plan that best meets their need.
Medical Education
University of Nebraska
Omaha, NE
Certifications
National Commission on Certification of Physician Assistants
Clinical Specialties
Cardiac Electrophysiology
Cardiovascular Disease

Meet the Provider
What about your line of work do you find most rewarding?
Helping people.
What is something about you that only your patients would know?
I hope that everyone I meet finds me considerate and caring.
How would a patient describe you?
Friendly and personable.
What is your proudest moment as a physician assistant?
When I received my master's degree.
In your opinion, what's the most important factor in an advanced practitioner-patient relationship?
Trust.
What can a patient expect when they have you as a physician assistant?
A quality, caring provider.
What do you find most encouraging about the work you do?
Helping people.
What are your top priorities with every patient you see?
Meeting their needs.
Describe one of the top ways you can ensure each patient receives the quality personal health care he/she deserves.
Thorough documentation.
Do you have any special medical interest?
Tobacco cessation.