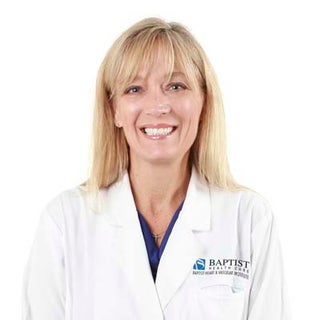 ---
Biography
Elizabeth Berg, APRN-C is an experienced nurse practitioner who provides care to patients at Cardiology Consultants. She works closely with her patients to provide a care plan that best meets their need.
Medical Education
University South Alabama
Mobile, AL
Certifications
American Academy of Nurse Practitioners
Memberships
American Academy of Nurse Practitioners
Clinical Specialties
Electrophysiology
Cardiology
Meet the Provider
What about your line of work do you find most rewarding and why?
Every patient is unique, and I am constantly learning.
How would a patient describe you?
Hopefully kind and compassionate.
What is your proudest moment as a nurse practitioner?
I am proudest when I see someone "get it" when we are discussing lifestyle changes that can improve their future.
In your opinion, what's the most important factor in an advanced practitioner/patient relationship?
Trust is the most important factor in the relationship with any health care provider and their patient. Without trust, everyone has wasted their time and resources.
What are your top priorities with every patient you see?
Their well being.
Describe one of the top ways you can ensure each patient receives the quality personal health care he/she deserves.
I review their records thoroughly.
Do you have any special medical interest?
Yes, advancement in treatment of aortic valve disease.