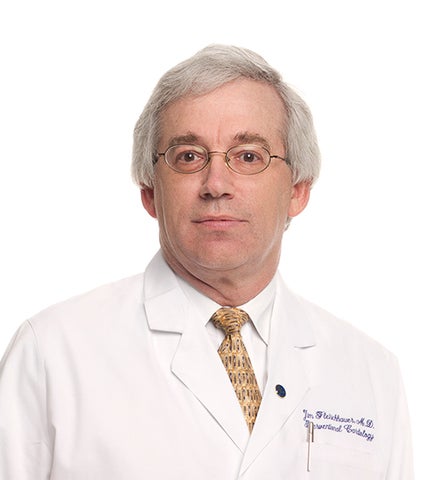 ---
RATINGS & REVIEWS
The provider star rating is calculated using patient reponses to the five care provider questions in our patient satisfaction survey. Below you can see the provider's star rating and the number of his or her patients who have provided feedback.
4.8
Provider discussed treatment options
---
4.9
Provider showed concern
---
4.9
Provider explained things clearly
---
4.8
Provider included you in decisions
---
4.9
Likelihood of recommending this provider
---
---
Comments
7/23/2022
Very good doctor
---
7/23/2022
Dr Fleischhauer is awesome He is very knowledgeable, has excellent bedside manner. He always explains my test results in a manner in which I can understand and asks concerned questions and answers mine thoroughly. I would recommend him to anyone with cardiac issues.
---
7/17/2022
Doctor was knowledgeable, willing to show or explain my condition which in turn put my concerns at ease.
---
7/17/2022
Dr Fleschier is an excellent doctor.
---
7/07/2022
Exceptional!
---
7/01/2022
Dr Flash always seeks to fully understand my issues and I trust his advice
---
6/30/2022
I was very pleased with the physician thoroughly going over my chart and medications with me and how he plans to update it for me. That was my first time to see him and I really hope that I continue to see him in the future.
---
6/22/2022
Outstanding
---
6/18/2022
TERRIFIC DOCTOR
---
6/17/2022
Each person was attentive and helpful
---
6/16/2022
Dr. Fleischhauer is very thorough,informative, caring.
---
6/14/2022
Dr. Fleischhauer has been my cardiologist for over 20 years. I believe he is absolutely wonder and has taken exceptional care of me.
---
6/11/2022
Always a professional and caring experience
---
5/22/2022
Good
---
5/19/2022
Good
---
5/17/2022
Good experience
---
5/16/2022
One of the best Cardiologist
---
5/15/2022
Dr f l e s h a u e r is a very attentive doctor
---
5/14/2022
Good
---
5/11/2022
Good
---
Biography
Medical Education
University of Texas Southwestern
Dallas, TX
Residency
Internal Medicine
Parkland Memorial Hospital, University of Texas Southwestern
Dallas, TX
Fellowship
Cardiology
Stanford University School of Medicine
Stanford, CA
Interventional Cardiology
Sequoia Hospital
Redwood City, CA
Board Certifications
Interventional Cardiology
Cardiovascular Disease
Internal Medicine
Clinical Interests
General Cardiology
Coronary and Peripheral Vascular Disease Intervention
Valvular Heart Disease
Memberships
Fellow, American College of Cardiology