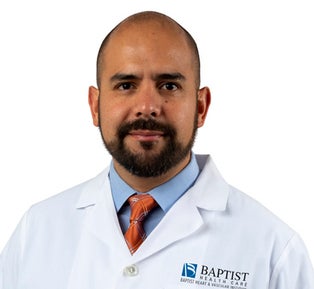 ---
Biography
Felipe Valencia is a caring physician assistant who provides care to patients at Baptist Heart & Vascular Institute. He works closely with patients and their families to develop care plans to best meet their needs.
Medical Degree
Masters, Surgical Physician Assistant
University of Alabama at Birmingham
Birmingham, AL
University of West Florida
Pensacola, FL
Certification
National Commission on Certification of Physician Assistants
Memberships
American Academy of Physician Assistants
Florida Association of Physician Assistants
Association of Physician Assistants in Cardiothoracic and Vascular Surgery
Additional Information
To learn more about Felipe Valencia, PA-C, and his services, please visit ebaptisthealthcare.org/heart
Meet your Provider
What led you to become a physician assistant or choose your focus of medicine?
I was fascinated with the team approach demonstrated between a PA and MD in order to maximize care of patients. Additionally, our training and continuing education forces us to maintain a level of competence in all fields, which I believe, benefits all aspects of patient care.
What about your line of work do you find most rewarding and why?
I was immediately attracted to Cardiothoracic surgery because of how it affected all components of patient's health and it is very rewarding to see them regain and improve their quality of life. We see patients sometimes during the worst days of their lives and then we get to see them thrive and improve.
What is something about you that only your patients would know?
I always come in with a smile, shake their hand and sit next to them as we discuss their day or plan of care.
How would a patient describe you?
They would describe me as very relatable and unafraid to discuss any matter that bothers them with the intent of making them more comfortable, from complex medical issues to simple daily items such as their coffee preference.
In your opinion, what is the most important factor in a physician assistant-patient relationship?
The trust that we are heavily invested 24/7 in their wellbeing and if unsure of something we will quickly collaborate with the physicians in our team to provide the best care possible.
What can a patient expect when they have you as a physician assistant?
They can expect that I will treat them with the same commitment as if I was treating a member of my family.
What do you find most encouraging about the work you do?
The new technologies that are developed every year for better care for cardiovascular disease are fascinating.