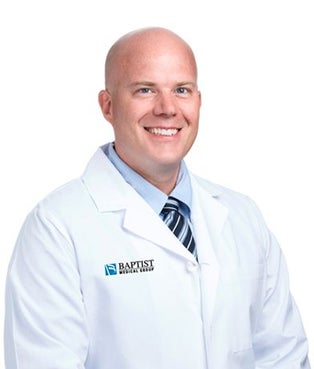 ---
RATINGS & REVIEWS
The provider star rating is calculated using patient reponses to the five care provider questions in our patient satisfaction survey. Below you can see the provider's star rating and the number of his or her patients who have provided feedback.
4.6
Provider discussed treatment options
---
4.7
Provider showed concern
---
4.7
Provider explained things clearly
---
4.7
Provider included you in decisions
---
4.7
Likelihood of recommending this provider
---
---
Comments
3/31/2022
Good
---
3/31/2022
I did most of the talking. Which was just fine.
---
3/30/2022
Attentive eye contact. Good overall
---
3/27/2022
Doctor always has a great concern when me and my wife go to see him with any problems he truly cares!
---
3/24/2022
Guild well is an excellent place for health care
---
3/14/2022
Listens, explains diagnosis and treatment very well
---
3/13/2022
Dr Shopmeyer is one of the best physicians I have came in contact with. I came to the open house along time ago and immediately like Dr Shopmeyer & [...] . I have been a patient ever since as well as my family.
---
3/09/2022
Explanations and treatment options were not relevant in this visit as I was just going to get lab work before specialist visit. He was interested and concerned
---
3/03/2022
Very open on suggestions,health concerns,and treatment or medication
---
3/01/2022
He is great!
---
2/26/2022
Dr. Schopmeyer has taken great care of me, and I recommend him to others frequently.
---
2/25/2022
Dr. Schopmeyer is always wonderful!
---
2/17/2022
Always professional
---
2/12/2022
I have been a Patient of this Office for 5 years now. And have recommended my oldest daughter and son-in-law here, as well as my youngest daughter and granddaughter here. Would love it if my husband could be seen here [...]
---
2/05/2022
I like Doctor Schopmeyer
---
2/05/2022
Dr Kevin is best I've found in 20 years here in Pensacola. I always recommend him. [...] has always been excellent in communication and the mail order stuff. [...]
---
2/05/2022
He will be my new primary dr
---
2/01/2022
Best doctor around!
---
Biography
Dr. Schopmeyer is an experienced, board-certified family medicine physician offering quality, convenient primary care and walk-in care at GuideWell Primary Care in Pensacola. He welcomes Florida Blue insured walk-ins and patients ages two and up.
Medical Degree
St. Georges School of Medicine
Grenada, British West Indies
Residency
Indiana University Health Ball Memorial – Family Medicine
Muncie, IN
Certifications
American Board of Family Medicine
Diplomate American Board of Family Medicine
Advanced Trauma Life Support
Advanced Cardiac Life Support
Advanced Life Support in Obstetrics
Neonatal Resuscitation
Basic Life Support
Professional Memberships
American Association of Family Practice
Christian Medical and Dental Association
Florida Academy of Family Physicians Foundation
Meet your Doctor
What led you to choose your focus of medicine?
In medical school I enjoyed every area of medicine that I studied but, most of all enjoyed building relationships with patients. Family medicine seemed to be a good fit.
What about your line of work do you find most rewarding and why?
I love helping patients improve their lives through health promotion. The greatest joy is when we can reduce or stop the medication because a patient returns to good health.
What is something about you that only your patients would know?
I try to address all their concerns and make the most out of each visit.
How would a patient describe you?
Patients use words such as good listener, caring, thorough, relatable, easy to talk to.
What's your proudest moment as a doctor?
I received an award for going above and beyond in patient care.
In your opinion, what's the most important factor in a doctor-patient relationship?
One word – empathy.
What can a patient expect when they have you as a doctor?
I will listen to them and do my best to address what is concerning them.
What do you find most encouraging about the work you do?
That people can find it within themselves to make healthy changes and that my encouragement helps make a difference.
What are your top priorities with every patient you see?
I believe in the quality of life for each patient and want to help them achieve quality throughout their lives according to their personal beliefs.
Describe one of the top ways you ensure each patient receives the quality personal healthcare he/she deserves?
I work to help patients cure disease when possible. I strive to make sure patients are informed of labs, test prognoses, and follow-up plans in a timely fashion.
Is there anything more or extra you would like prospective patients to know about you?
I work very hard to maintain a balance between giving each patient the time they need and not having extended wait times to be seen. I really respect a patient's time and financial investment in their medical care.
Do you have any specific medical interest?
Weight loss and health promotion.
What are the top three most common services you provide?
Preventive care for adults and pediatrics, acute/urgent care for adults and pediatrics and chronic disease management.
What are the main/primary conditions you treat?
Comorbidities of the modern American diet/lifestyle: hypertension, Type 2 diabetes, high cholesterol, obesity, acute illnesses, and injuries.
What is the one thing about your specialty that most people don't realize?
The breadth of training, knowledge, and experience that family medicine physicians have. I care for newborns to geriatrics.
What is the biggest MYTH or misconception about your specialty?
That we only treat minor diseases. Many people are surprised that I do laceration repair, dermatology procedures, and joint injections.
What aspect of your specialty is your favorite and why? Variety. I love seeing a variety of patients and problems, building relationships with patients and being referred to as "my doctor."
What are the topics or areas of your specialty that you most enjoy educating patients about?
I enjoy educating my patients about their disease and helping them to stop taking medication when applicable. I like discussing alternative medication.