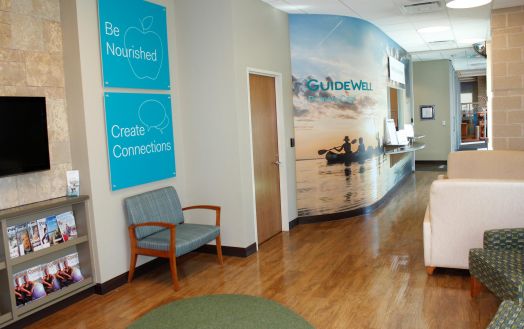 New Patient Paperwork
GuideWell Primary Care provides quality family medicine services through Baptist Medical Group exclusively for Blue Cross and Blue Shield members age 2 and up. Our board-certified family medicine physician, nurse practitioners, and medical support team are dedicated to providing superior patient care including medical visits, wellness and support programs, plus on-site lab services. Our office is conveniently located at the Florida Blue Center in Cordova Commons at 1678 Airport Blvd, Pensacola.
Our Specialty
As a family medicine practice, we see patients ages 2 and up. Any Blue Cross Blue Shield member from any state can receive care and benefit from the expertise of the highly qualified team at Baptist Medical Group.
Medical Services
We offer a full scope of treatment options for a wide array of conditions including minor aches, pains, bruises, scrapes, bites, colds, sinus infections, ear aches, diabetes management and more.
Our Providers
At our practice, physician Dr. Kevin Schopmeyer is joined by nurse practitioners Eric Allen and Jodilyn Holz. We encourage you to get to know your provider by visiting their profile pages.
Appointment Information
Scheduling
It's simple, secure and easy to request an appointment online. Visit EasySchedule.com to book your appointment today. If you prefer to call our office to schedule an appointment, you can do so by calling 850.479.3790.
Appointment Preparation
To save you an extra step at the office, we encourage all new patients to download our new patient paperwork forms on this page. You can do so by clicking the button on the top left. Simply print the forms, complete them and bring them to your appointment. There may be a few additional items for you to sign upon arrival at your appointment.
What to Bring
Please bring to your appointment your completed new-patient paperwork, a valid photo ID, your current insurance card and a list of any current prescriptions or medicine you're taking. You're always welcome to bring a significant other, family member or caregiver with you to your appointment. Arrival
To help you have the best possible experience at your appointment, we ask that you please arrive 15 minutes prior to your appointment time.
Missed Appointment
To ensure we're able to continue to provide the personal care you expect from Baptist Medical Group providers, it's important that you let us know immediately upon realizing you may be unable to keep your appointment. We request you contact the office with at least 24 hours notice if you are unable to keep your appointment.
Insurance
Baptist Medical Group at GuideWell Primary Care serves patients with Florida Blue as their primary or secondary insurance plan. If you have questions in regards to your insurance plan, please contact us at 850.479.3790.

Our Financial Policy
It's our policy that co-payments, co-insurance, deductibles and any outstanding balances are due at the time of service. This means that you will be expected to pay for services (as defined by your insurance policy) while at our office for your scheduled appointment. For your convenience, we accept payments in cash, check or credit card.