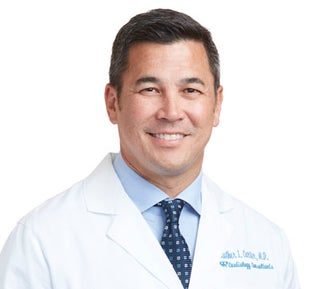 ---
Biography
Interventional Cardiologist, Dr. Luther Carter is an experienced, board-certified cardiologist with expertise in advanced coronary intervention, structural heart disease, and valvular heart disease. Dr. Carter recently completed serving in the military at the Naval Medical Center in San Diego, CA, where he was the director of the cardiac catheterization laboratory.
In September 2010, Dr. Carter performed the first minimally invasive Atrial Septal Defect (ASD) closure procedure at Baptist Hospital, repairing a hole in a patient's heart and leaving only a needlestick mark.
Medical Education
Medical University of South Carolina
Charleston, SC
Residency
National Naval Medical Center
Bethesda, MD
Fellowship
Cardiovascular Diseases
National Naval Medical Center
Bethesda, MD
Interventional Cardiology
William Beaumont Hospital
Royal Oaks, MI
Board Certifications
Interventional Cardiology
Clinical Specialties
Coronary Interventions
Trans-Radial Artery Cardiac and Vascular Procedures
Peripheral Vascular Disease and Interventions
Structural and Valvular Heart Disease

Publications
"Recent Advances in Hemodynamics: Non-Coronary Applications of a Pressure Sensor Angioplasty Guidewire" Cavendish JJ, Carter LI, Tsimikas S. Catherter Cardiovasc Interv - 2008; 71(6):748-58
"Percutaneous Closure of a Patent Foramen Ovale via Left Axillary Vein Approach with the Amplatzer Cribiform Septal Occluder" Carter LI, Cavendish JJ, J Interv Cardiol. 2008; 28-31
Additional Info
Joined Cardiology Consultants in 2010.
Additional Info
To learn more about Dr. Carter and his services, please visit Baptist Heart & Vascular Institute and Cardiology Consultants. Dr. Carter joined Cardiology Consultants in 2010.