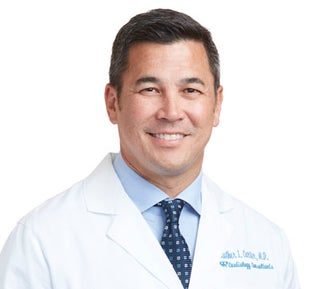 ---
RATINGS & REVIEWS
The provider star rating is calculated using patient reponses to the five care provider questions in our patient satisfaction survey. Below you can see the provider's star rating and the number of his or her patients who have provided feedback.
4.6
Provider discussed treatment options
---
4.7
Provider showed concern
---
4.7
Provider explained things clearly
---
4.7
Provider included you in decisions
---
4.6
Likelihood of recommending this provider
---
---
Comments
7/14/2022
Excellent
---
6/30/2022
Dr was very direct and very helpful
---
5/22/2022
Very good
---
5/14/2022
Good
---
4/25/2022
It was my first time to see Dr. Luther. I was so impressed with his professional expertise and as well, his "bedside manner."
---
4/02/2022
Everyone was great and very helpful.
---
3/11/2022
I was impressed from check in to check out
---
3/03/2022
He seems very competent yet aloof to being a bit personable with patients. He listened with leaning against the wall by door, arms folded. Had to ask for EKG to be done with appointment with concerns shared. Struck me odd that I had to suggest own plan of care Ideas related to cardiac concerns. It could be his personality style, but I feel like Its all business and time management with the schedule. This was the second time I noticed this and now see a pattern of behavior. Just Isn't a warm and fuzzy kind of guy. Every patient wants to feel noticed and cared for. This felt like a business visit. Again- just sharing the optic and feelings as a healthcare professional with years of experience with patients.
---
2/21/2022
Every thing was as it should be.
---
2/18/2022
I always recommend Dr. Carter to anyone I know needing cardiac care.
---
Biography
Interventional Cardiologist, Dr. Luther Carter is an experienced, board-certified cardiologist with expertise in advanced coronary intervention, structural heart disease, and valvular heart disease. Dr. Carter recently completed serving in the military at the Naval Medical Center in San Diego, California, where he was the director of the cardiac catheterization laboratory.
In September 2010, Dr. Carter performed the first minimally invasive Atrial Septal Defect (ASD) closure procedure at Baptist Hospital, repairing a hole in a patient's heart and leaving only a needlestick mark.
Medical Education
Medical University of South Carolina
Charleston, SC
Residency
National Naval Medical Center
Bethesda, MD
Fellowship
Cardiovascular Diseases
National Naval Medical Center
Bethesda, MD
Interventional Cardiology
William Beaumont Hospital
Royal Oaks, MI
Board Certifications
Interventional Cardiology
Clinical Specialties
Coronary Interventions
Trans-Radial Artery Cardiac and Vascular Procedures
Peripheral Vascular Disease and Interventions
Structural and Valvular Heart Disease

Publications
"Recent Advances in Hemodynamics: Non-Coronary Applications of a Pressure Sensor Angioplasty Guidewire" Cavendish JJ, Carter LI, Tsimikas S. Catherter Cardiovasc Interv - 2008; 71(6):748-58
"Percutaneous Closure of a Patent Foramen Ovale via Left Axillary Vein Approach with the Amplatzer Cribiform Septal Occluder" Carter LI, Cavendish JJ, J Interv Cardiol. 2008; 28-31
Additional Info
To learn more about Dr. Carter and his services, please visit Baptist Heart & Vascular Institute. Dr. Carter joined Baptist Heart & Vascular Institute in 2010.