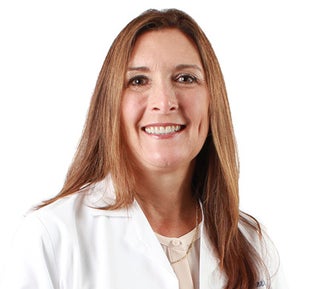 ---
RATINGS & REVIEWS
The provider star rating is calculated using patient reponses to the five care provider questions in our patient satisfaction survey. Below you can see the provider's star rating and the number of his or her patients who have provided feedback.
4.8
Provider discussed treatment options
---
4.7
Provider showed concern
---
4.8
Provider explained things clearly
---
4.8
Provider included you in decisions
---
4.7
Likelihood of recommending this provider
---
---
Comments
7/01/2022
Dr. Tanya Warner is excellent. She listens and takes times to address all concerns. She helps figure out the best care for the patient. She is very kind and caring. Would recommend her 10 out 10.
---
6/24/2022
Good
---
6/03/2022
She is very professional easy to talk to
---
4/29/2022
Tanya Warner was very efficient & competent- explained In detail procedure
---
4/14/2022
I feel that for the first time after all of my visits, someone was actually paying attention to my problem and did something about it. She was very attenuative to my problem.
---
4/05/2022
All very good
---
4/02/2022
I cannot emphasize enough about the excellent care Tanya Duffy showed. She listened to my concerns, reviewed my record and the EKG data, she explained her recommended plan for treatment and ordered the followup with the Cardiologist. She is a true professional!
---
3/16/2022
NP did not ask me how I was feeling/doing currently....she only ref my records from 13 months ago....Talked about my "high cholesterol " which I was unaware that I currently had....When I left I was given written orders for 2 blood tests....Why in the year+ was I not given these tests....This was my 5th visit and my 4th NP.....
---
3/05/2022
Extremely pleased with level of care and information I received.
---
3/03/2022
She was very professional thorough and discussed everything answering all of my questions completely.
---
3/03/2022
She was exemplary.
---
3/03/2022
Never recommend never go here again
---
2/26/2022
Really like Tonya
---
2/25/2022
I have never had a better provider experience than this one.
---
2/23/2022
Again, Tanya is awesome.
---
Biography
Tanya Warner, DNP, FNP-C, is an experienced nurse practitioner who provides care to patients at Baptist Heart & Vascular Institute. She works closely with patients and their families to develop care plans to best meet their needs.
Medical Education
Doctorate of Nursing Practice
University of Florida
Gainesville, FL
Certifications
American Academy of Nurse Practitioners
ACLS and BLS
Clinical Specialties
Cardiology