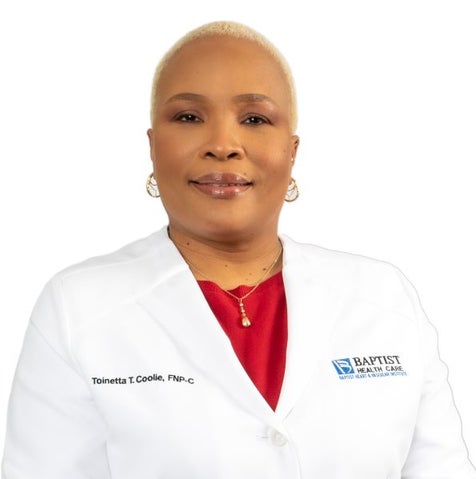 ---
RATINGS & REVIEWS
The provider star rating is calculated using patient reponses to the five care provider questions in our patient satisfaction survey. Below you can see the provider's star rating and the number of his or her patients who have provided feedback.
4.8
Provider discussed treatment options
---
4.8
Provider showed concern
---
4.8
Provider explained things clearly
---
4.7
Provider included you in decisions
---
4.8
Likelihood of recommending this provider
---
---
Comments
4/01/2022
Toinetta always listens to my problems and then works hard to correct them. She is always concerned about my well-being. She is the person I want to see when I come to the CHF unit.
---
3/30/2022
PA Coolie is one of the best I have ever had and makes me feel so much better and is truly dedicated to helping me heal!
---
3/29/2022
It was ok
---
3/19/2022
Excellent clinic visit
---
3/03/2022
Good
---
Biography
Toinetta T. Coolie, DNP, APRN, FNP-BC, is an experienced nurse practitioner who provides care to patients at Baptist Heart & Vascular Institute and Cardiology Consultants. She works closely with patients and their families to develop care plans to best meet their needs.
Medical Education
Chamberlain University
Downers Grove, IL
Walden University
Minneapolis, MN
University of Mobile
Mobile, AL
Certifications
ANCC - Family Nurse Practitioner
Florida Board of Nursing
Alabama Board of Nursing

Memberships
Sigma Theta Tao Nursing Honor Society
American Association of Nurse Practitioners
American Nurses Association
Meet Your Provider
What led you to become a nurse practitioner and choose your focus of medicine?
After twenty-years of nursing, I had the desire to do more to help patients and their families. Being a Nurse Practitioner allows me to provide the knowledge of my advanced practice to educate patients and their families to achieve better health outcomes.
What about your line of work do you find most rewarding and why?
Education is rewarding. Showing patients how they can continue to enjoy their life despite their disease is very rewarding.
How would a patient describe you?
Friendly, hard-working, compassionate, and understanding
What's your proudest moment as an advanced practitioner?
Becoming an advanced practitioner and seeing the smile on my family's face has to be one of my proudest moments.
In your opinion, what are the most important factors in an advanced practitioner–patient relationship? Listening to their concerns and building a trusting patient-provider relationship.
What can a patient expect when they have you as an advanced practitioner?
I will give them my undivided attention, listen to their concerns, and make every attempt to address their needs. I will work with the patient to build a plan they can follow for success.
What do you find most encouraging about the work you do?
It is encouraging to see a smile on the patient's face and to ensure their needs have been met.
What are your top priorities with every patient you see?
My priority is to build lasting trusting relationships and to provide the patient with honest answers even in difficult situations.
Describe one of the top ways you ensure each patient receives the quality, personal health care he/she deserves.
Some key ways to ensure patients receive quality care is addressing their concerns, providing the appropriate treatment plans, and educating them to ensure an understanding.