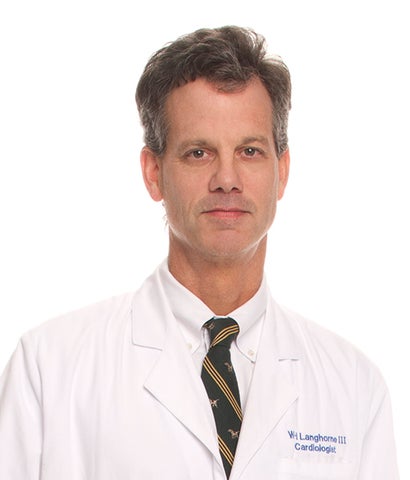 ---
RATINGS & REVIEWS
The provider star rating is calculated using patient reponses to the five care provider questions in our patient satisfaction survey. Below you can see the provider's star rating and the number of his or her patients who have provided feedback.
4.8
Provider discussed treatment options
---
4.9
Provider showed concern
---
4.8
Provider explained things clearly
---
4.8
Provider included you in decisions
---
4.8
Likelihood of recommending this provider
---
---
Comments
7/31/2022
I appreciated that the Dr. Took his time, and was very through.
---
7/31/2022
He was very warm and welcoming and communication was excellent.
---
7/28/2022
Doctor was very professional
---
7/27/2022
Doctor Langhorne is superb.
---
7/27/2022
Dr Langhorne is caring and a true physician!
---
7/09/2022
Thankful for ourDr.
---
6/26/2022
Good
---
6/23/2022
Dr Langhorne is so kind and mating. He makes you feel totally cared for
---
6/09/2022
Dr Langhorne is a professional, knowledgeable and caring person. Glad I am his patient.
---
6/09/2022
I'm very satisfied with Dr. Langhorne.
---
6/03/2022
DR langhorne was very thorough
---
5/18/2022
Good
---
5/09/2022
I have had some major Issues with Cardiologist over the years to the point I did not want to see one or trust anyone . Dr Langhorne seemed to calm some of those fears I felt comfortable around him
---
5/07/2022
Dr. Langhorne was most professional and pleasant
---
4/28/2022
Dr. Langhorne is very kind and patient. He take his time to listen and doesn't make me feel he's in a hurry
---
4/27/2022
Very good experience
---
4/25/2022
All explanations were complete and easy to follow.
---
4/23/2022
Excellent
---
4/20/2022
Outstanding in all respects.
---
4/17/2022
Happy with doctor for my cardiac care and will return. [...]
---
Biography
Medical Education
Tulane School of Medicine
New Orleans, LA
Residency
Internal Medicine, Vanderbilt University
Nashville, TN
Fellowship
Cardiology, Emory University
Atlanta, GA
Board Certification
Cardiovascular Disease
Echocardiography
Memberships
Fellow, American College of Cardiology
American Society of Echocardiography