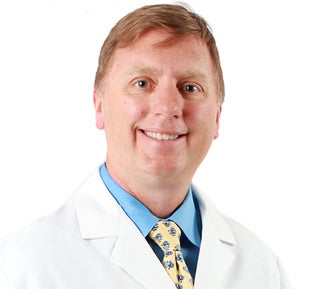 ---
RATINGS & REVIEWS
The provider star rating is calculated using patient reponses to the five care provider questions in our patient satisfaction survey. Below you can see the provider's star rating and the number of his or her patients who have provided feedback.
4.8
Provider discussed treatment options
---
4.8
Provider showed concern
---
4.8
Provider explained things clearly
---
4.8
Provider included you in decisions
---
4.8
Likelihood of recommending this provider
---
---
Comments
7/30/2022
All Good experiences !
---
7/02/2022
Excellent interaction. Complete explanations.
---
6/18/2022
Good
---
6/16/2022
Very informative thanks
---
5/07/2022
My PA, Ward, was professional, patient and a good listener. [...]
---
5/06/2022
Always good!
---
5/04/2022
Superb, took time to answer questions and review options
---
4/16/2022
Drew is always exceptional! He answered all my questions and explained everything to me so I could understand it.
---
4/13/2022
Very thorough very good even consulted with our son. Could not have been better
---
4/12/2022
Happy he addressed questions to my mother
---
4/02/2022
Good
---
3/13/2022
Very good
---
3/07/2022
Good experience
---
2/08/2022
My visit was very pleasant given the circumstances. The front staff, nurse and Doctor were all very professional and explained every step. I felt very well cared for. The Doctor really listened to me and was very detailed and recapped the visit with me. He even informed me of my follow up in a year. I am always happy with my experience while visiting that doctors office.
---
2/05/2022
He was very informative
---
2/03/2022
Drew Watson is top notch.
---
2/01/2022
Good
---
Biography
William Watson, PA-C is an experienced physician assistant who provides care to patients at Baptist Heart & Vascular Institute. He works closely with his patients to provide a care plan that best meets their need.
Medical Education
University of South Alabama
Mobile, AL
Board Certification
National Commission on Certification of Physician Assistants
Clinical Specialties
Cardiac Electrophysiology
Cardiovascular Disease

Meet the Provider
What led you to become a physician assistant or choose your focus of medicine?
I always wanted to be in medicine, after the Navy I learned about the P.A. profession and found the job that is perfect for me.
What about your line of work do you find most rewarding and why?
Working with patients and their families and helping them any way I can.
What is something about you that only your patients would know?
Nothing. I am who I am to everyone, everywhere. I live my life honestly.
How would a patient describe you?
I hope they would describe me as thorough, kind and caring.
What is your proudest moment as a physician assistant?
When a patient tells me that I somehow made a difference in their life.
In your opinion, what's the most important factor in an advanced practitioner-/patient relationship?
Trust.
What can a patient expect when they have you as a physician assistant?
Everything. I will give my all to them in the hospital and office and will do so with compassion.
What do you find most encouraging about the work you do?
Having a job that allows me to help others in some small way.
What are your top priorities with every patient you see?
Doing my best to help them get better and try to attend to as many of their needs as I can.
Describe one of the top ways you can ensure each patient receives the quality personal health care he/she deserves.
I take the time needed to address all needs of the patient and answer all their questions. Communication is the key.
Is there anything more or extra you would like prospective patients to know about you?
Simply that I am a Christian, and I try my best to live for Jesus Christ.
Do you have any special medical interest?
I love cardiology.