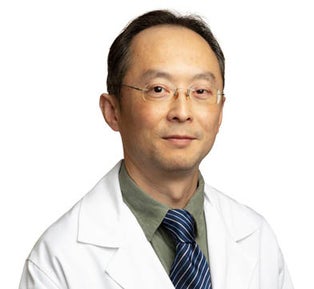 ---
RATINGS & REVIEWS
The provider star rating is calculated using patient reponses to the five care provider questions in our patient satisfaction survey. Below you can see the provider's star rating and the number of his or her patients who have provided feedback.
4.3
Provider discussed treatment options
---
4.4
Provider showed concern
---
4.4
Provider explained things clearly
---
4.4
Provider included you in decisions
---
4.3
Likelihood of recommending this provider
---
---
Comments
7/29/2022
Professional, friendly and reassuring!
---
7/26/2022
Dr. Li is an awesome doctor. He listened to me and he also talked to me and he may be a little hard on you but he only has your best interest in mind. He is the best doctor I've come across in a very long time. He knows his job and knows how to approach his patients.
---
7/16/2022
I first met Dr. Li after being admitted to BaptistUpon having a heart attack. I was impressed with his care & concern from the very beginning.
---
7/16/2022
Doc was kind & straightforward. He was quick to put my mind and setup plan to ease any underlying problems
---
6/16/2022
I cannot say enough good things about Dr Li and his staff. From walking through the doors until I walked out, I was greeted and treated by very kind and professional staff.
---
6/09/2022
Dr Li was remarkably pleasant and gave me all the time I needed to answer questions. He explained the course he was charting for my care and follow-up.
---
5/23/2022
Good
---
5/23/2022
Good
---
5/13/2022
Dr. Li is very kind and professional.I feel fortunate to have been seen by him.
---
5/13/2022
This is about Dr. Li and being listened to, which didn't happen. I asked for as much work as possible, and noted the issues; these were waved away and I was told to try harder to get my mother back in to this office in a few weeks. That won't be happening.
---
4/05/2022
Keep up the good work
---
3/05/2022
Good
---
2/11/2022
I was referred to Dr Li but he didn't know why I was there
---
2/03/2022
This doctor did not address any of the issues I had. He basically blew off anything I am going through regarding my issues and kept telling me to eat in less without knowing my eating habits or exercise regiments nor listening to anything I had to say. I will not be returning for any follow up visits with this doctor
---
Biography
Dr. Zhaohui Li is double board-certified in internal medicine and cardiology as well as a fellowship-trained cardiologist who specializes in treating cardiovascular disease. He works with patients to offer comprehensive cardiovascular treatment plans that best meet their conditions and needs and welcomes new patients.
Medical Education
Doctorate, Peking Union Medical College
Beijing, China
Master, Medical School of Xi'an Jiao Tong University
Xi'an, China
Residency
Mount Vernon Hospital
Mount Vernon, NY
Fellowships
Tulane University School of Medicine
New Orleans, LA
Board Certifications
American Board of Internal Medicine
American Board of Internal Medicine – Cardiovascular Disease
Nuclear Cardiology certified
National Board of Echocardiology
Memberships
American College of Cardiology