Baptist Cancer Institute's Genetics Program

What is genetic testing?
Genetic testing searches for specific changes in your genes and can help you determine if you are at increased risk for developing certain types of hereditary cancer. Around 10% of diagnosed cancers are caused by hereditary risk factors.
Breast
Colorectal
Endometrial
Gastric
Melanoma
Ovarian
Pancreatic
Prostate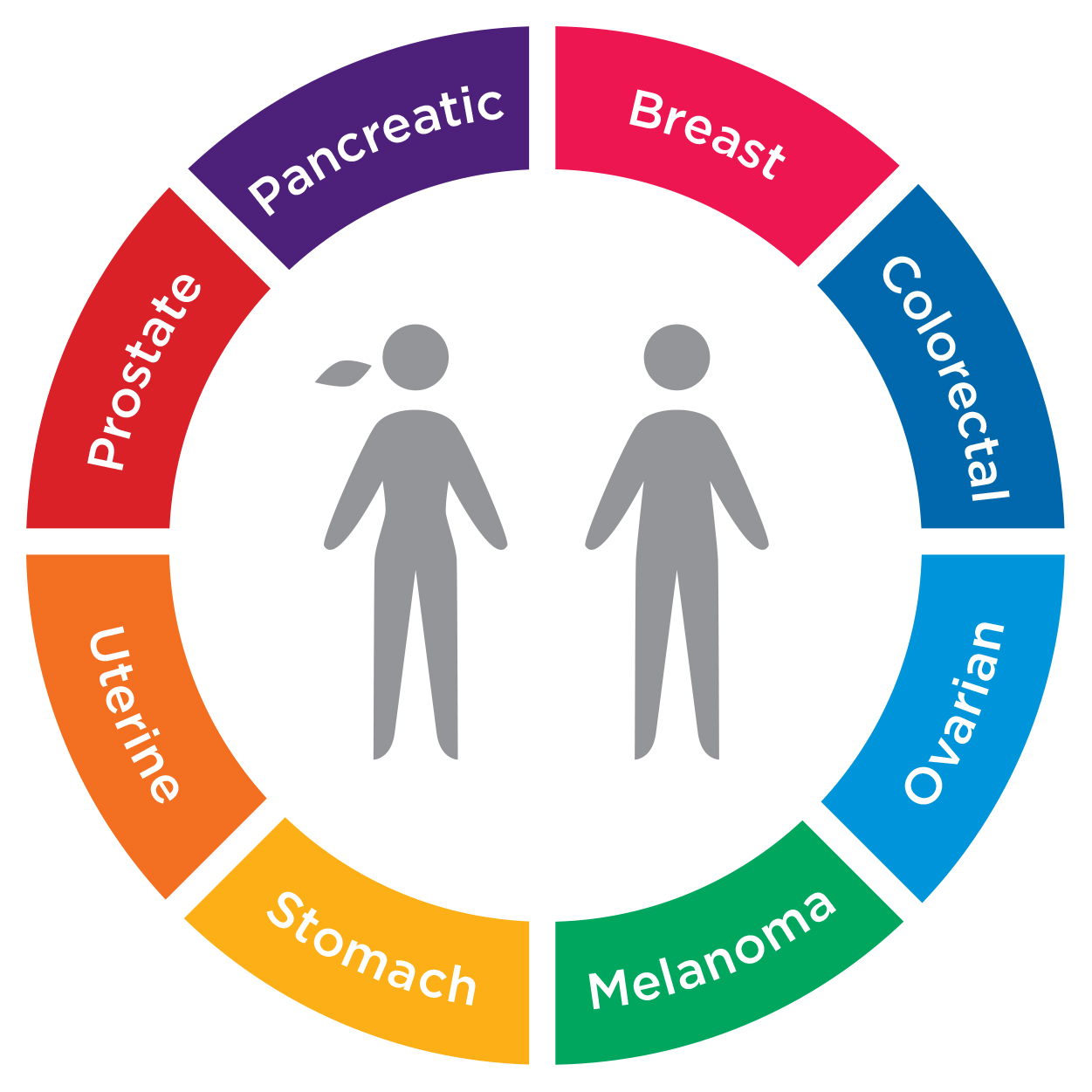 Are you a candidate for genetic testing?
If you have a personal or family history of cancer or meet any of the criteria below, we encourage you to consider genetic testing:
You or a close relative that was diagnosed with cancer at a young age (under 50)
Several different types of cancer that have occurred independently
Several close blood relatives who have the same type of cancer
Rare cancers in your personal or family history (ovarian, pancreatic, metastatic prostate cancer)
A male family member diagnosed with breast cancer
Family member that has tested positive for a genetic mutation
What to expect at your genetic testing appointment
A sample is collected at our high-risk genetics clinic. The sample is then sent to a laboratory that specializes in genetic testing.
It usually takes a few weeks to receive your results. Once your provider reviews your results, they will reach out to schedule a one-on-one consultation to discuss your risks and develop a care plan that best meet your needs.
After you complete our cancer risk assessment a member from our clinic will reach out to you to get you an appointment scheduled with our Cancer Risk and Prevention provider. At this appointment, our provider will further review your personal and family cancer history as well as educate you on the purpose and benefits of genetic testing. After you speak with our provider, you will have a blood sample drawn in the office and be scheduled for a follow-up appointment. The results typically take anywhere between 2-4 weeks to come back.
You will meet with a Baptist Cancer Risk and Prevention provider at your follow-up appointment. At that time the provider will go over your results in detail and discuss any personalized risk reduction changes that might be recommended by the National Comprehensive Cancer Network (NCCN) guidelines. Some of these changes may include:
Breast MRI Screening
Lifestyle and diet changes
Earlier colonoscopy screenings
Depending on your results you may be followed every 6 months to a year in the Baptist Cancer Risk and Prevention clinic for any updates or scans that may be needed. All changes or updates will be communicated back to your primary care provider.
What are the Benefits
Understand if you have a genetic risk
Personalized cancer prevention plan
Enrollment in high-risk program
Opportunities to get family members access to testing
Is genetic counseling and testing covered by my insurance?
There is no charge for the genetic counseling appointment at Baptist. Most insurance companies will cover genetic testing for those who meet national guideline criteria, with rare exceptions. Coverage for genetic testing depends on a number of factors. If testing is pursued, the genetics laboratory will call you if there are any out-of-pocket costs prior to starting the test.
Our team will be with you every step of the way!
Genetic testing can have several benefits. If you test positive, it is important to know that you have an experienced team of specialists behind you who will work together to help you every step of the way. For more information about our program, call 850.908.2414.
---
Baptist Health Care is honored to be accredited by the National Accreditation Program for Breast Centers. This designation demonstrates Baptist Cancer Institute's compliance with its programmatic standards and its commitment to maintaining excellence in the delivery of comprehensive, patient-centered, high-quality care for patients with breast disease.