Recipe: Fruit and Veggie Drink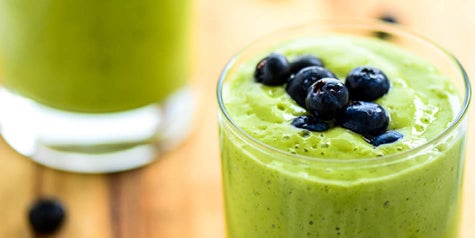 Ingredients
3/4 cup of crushed ice
1 ripe mango - peeled, seed removed and flesh scooped out
1 banana - peeled
1/3 cup of blueberries - rinsed
1 cup of raw, fresh spinach leaves
1/2 cup of raw carrot slices
3/4 cup of dairy or non-dairy liquid (Examples: Try 1/4 cup of heavy whipping cream and 1/2 cup of organic, whole milk or you could certainly use almond milk or coconut milk if dairy isn't for you).

Directions
Place the ice at the bottom of your blender. Then add the mango flesh, banana and berries. Place one cup of spinach leaves into the blender and then add the carrot slices. The cup of dairy liquid (or coconut or almond milk) goes in last. Now blend for about a minute or two. Stir, mix and crush to make sure ice didn't stay chunky or bulky. Follow your instincts as far as what your blender can do. When everything is well incorporated and liquefied, pour it into a 32 ounce glass or two 16 ounce glasses.

Yields two 16-ounce glasses - or one for enjoying now, one to store in the fridge for later.



Categories:
---
Related Articles: