Recipe: Pumpkin Oat Bars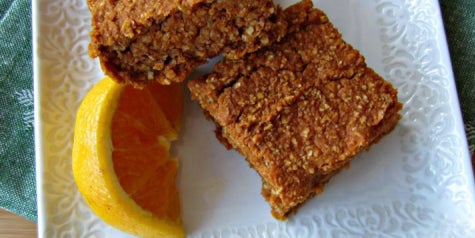 - 10/01/2018
Are you craving pumpkins at this time of the year? Choose this healthier, lighter dessert that will both fill and satisfy you.

Ingredients:
1.5 cups quick cooking oats
¼ cup brown sugar (or sub honey)
1 teaspoon baking powder
1 teaspoon ground cinnamon
½ teaspoon pumpkin pie spice
½ teaspoon salt
½ cup of milk or half-and-half cream
1 large egg, lightly beaten
1 teaspoon vanilla extract
¼ cup of pure maple syrup
1 can (15 ounces) pumpkin puree

Directions:
Preheat oven at 350 degrees. Set aside. Lightly grease an 8x8 inch baking pan. In a large bowl, mix oats, sugar (or honey), baking powder, cinnamon, pumpkin pie spice and salt. After mixing, create a hole in the center. Pour the milk or cream in the well. Add the beaten egg, maple syrup and vanilla extract. Stir to combine. Add in the pumpkin last. Mix thoroughly to combine. Pour or spoon out batter into the prepared pan. Bake for 15 to 30 minutes or until an inserted toothpick comes out clean from baked mixture. Let it cool before serving. Refrigerate any leftovers. Makes 16 bars.

Find more healthy, delicious recipes on the Baptist Health Care Pinterest board.
Categories:
---
Related Articles: