Take Care of You During Summer Vacation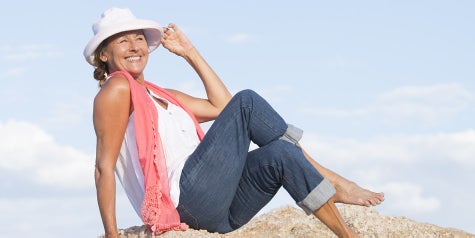 We look forward to summer and an escape from the normal routine. Summer is an excellent time to take better care of ourselves even when we are on a road trip, at the beach or on a vacation. You do not have to wreck healthy habits while enjoying the relaxation. Follow these tips to avoid burn-out and bulge this season.

1. Keep that healthy mindset.
This is the key to success. Don't sabotage the progress you've made toward maintaining a good diet and active lifestyle. Tell your friends or family you are traveling with that you want to practice those same healthy habits while on vacation. Ask for their support and encouragement while you travel. Write down intentions and track foods using a food diary or calorie app so you don't stray too far from your goals.

2. Plan your meals.
If you're truly on vacation, you may not want to cook or worry about every meal of the day. You can, however, look ahead to food options in the area. When you decide what restaurant to visit, find their menu online if possible and select a better choice than fried or fatty foods. If you're going to cheat, then just cheat for one meal or snack. Don't go wild for an entire day. Balance two other healthy meals with that one where didn't choose wisely.

3. Pack healthy snacks.
We most often make poor choices when healthy options are not within reach. Purchase or prepare better for you snacks. Pack a cooler with fruit and string cheese for picnics, beach days or car traveling. Stash mixed nuts and 100 calorie packs in purses, back packs or other bags. Grab it if you are truly hungry and not just bored.

4. Carry water with you.
Staying hydrated is important during the hottest months of the year. Keep up your water intake by carrying bottled water or a drinking cooler with you at all times. Don't climb into a hot vehicle without having water to sip. Whether you're outside gardening or just relaxing next to a pool, in the summer you'll need to replenish the body, especially as you sweat. Make a habit of always having water with you so you can reach for it often.

5. Do a daily physical activity.
While on a trip, take the opportunity to explore the area by foot. Walk, jog or hike where you can. Swim in a pool. Golf a new course. Take the stairs in a hotel instead of the elevator. Park the car further away in a lot to help you gain more steps to your destination. Make the effort to be active on vacation or even take up a new sport. You can have fun and also help balance any unhealthy choices during the vacation.

Planning is the best tool to ensure a healthy escape. Relax during your getaway but don't let bad foods and unhealthy activities become the center of your vacation. Take care of you during and after the excursion to truly enjoy the retreat.