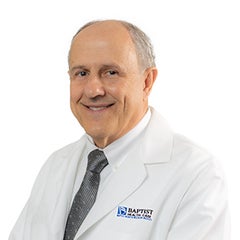 ---
RATINGS & REVIEWS
The provider star rating is calculated using patient reponses to the five care provider questions in our patient satisfaction survey. Below you can see the provider's star rating and the number of his or her patients who have provided feedback.
4.8
Provider discussed treatment options
---
4.9
Provider showed concern
---
4.8
Provider explained things clearly
---
4.8
Provider included you in decisions
---
4.8
Likelihood of recommending this provider
---
---
Comments
6/14/2022
Very good experience.
---
6/08/2022
I feel better knowing what Dr Bronco is going to do..
---
5/30/2022
Dr.Branco listen to all of my concerns and explained everything to me thoroughly and explain my treatment option very well I would highly recommend
---
5/23/2022
Good
---
5/08/2022
Very good
---
5/06/2022
Was very glad to have Dr Branco as a doctor. [...]
---
4/23/2022
Great physician
---
4/23/2022
Good
---
4/21/2022
If ever I do need a Cardiologist, I pray that Dr.Branco is available.
---
4/20/2022
Dr. Branco is an excellent doctor in his field.
---
4/19/2022
Dr. Branco goes above expectations to be very thorough and concerned. He ALWAYS takes the time to explain issues to me, so that I can understand. He has ALWAYS treated me with respect and dignity.
---
4/16/2022
Nurse and physician efficient.
---
4/10/2022
Good experience
---
4/09/2022
Felt at ease
---
4/05/2022
I'm very happy I was referred to your organization
---
2/20/2022
Excellent
---
Biography
Marcelo C. Branco, M.D., FACC, is a highly-skilled, board-certified interventional cardiologist and electrophysiologist. He is highly skilled in diagnosing and treating cardiovascular disease as well as irregular heartbeats and arrhythmias. He works with his patients to offer comprehensive cardiovascular treatment plans that best meet their conditions and needs.
Medical Education
Universidade Federal Do Rio De Janeiro
Rio de Janeiro, Brazil
Residency
Marshall University Affiliated Hospitals
Huntington, WV
Fellowships
Cardiology, University of Kentucky Medical Center
Lexington, KY
Certifications
Cardiovascular Disease
Cardiac Electrophysiology
Internal Medicine