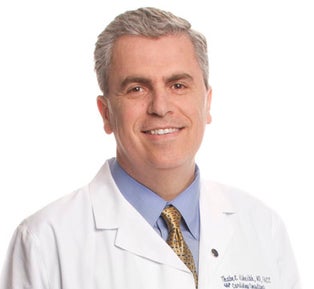 ---
RATINGS & REVIEWS
The provider star rating is calculated using patient reponses to the five care provider questions in our patient satisfaction survey. Below you can see the provider's star rating and the number of his or her patients who have provided feedback.
4.9
Provider discussed treatment options
---
4.9
Provider showed concern
---
4.9
Provider explained things clearly
---
4.9
Provider included you in decisions
---
4.9
Likelihood of recommending this provider
---
---
Comments
7/28/2022
Asked good questions, listened patiently, responded thoughtfully. Can't do better than that!
---
7/23/2022
Dr Alsheikh was so kind and informative. He took plenty of time with us.
---
7/16/2022
It was my first meeting/appt with Dr Alsheik and both my wife and myself were impressed. He explained my issues and gave me several options and had a calming mannerism.
---
6/03/2022
Dr.A always tells you what you need to hear, he explains what has happened and what will happen, even if it is not what you really want to hear.
---
6/02/2022
Excellent
---
5/30/2022
Dr Alsheikh is amazing!
---
5/06/2022
I feel very highly about the care I receive from Dr Alshreikh h has been my physician since [...]
---
5/04/2022
Good
---
4/17/2022
All good
---
4/15/2022
Awesome, calm clear explanation of my cardiac arrhythmia, possible causes, possible treatments. Clearly questioned if I'd "felt" any of the arrhythmia. Listened to my verbal history-did not just read previous records especially my venous thrombosis history of superficial to pulmonary embolism. Also he questioned lung health issues including bronchiectasis. He detailed the ekg results taken on that day and discussed the results of the monitor that I had worn and the concerns. He diagramed on a paper heart where the irregular rhythm was likely initiating the beats. I had read of the ablation procedure before but he described it in detail. He also described the risks as well as his own history of performing this procedure. We did talk of the treatment urgency and alternatives. I chose the ablation procedure. No pressure..answered all questions
---
4/13/2022
Good
---
4/05/2022
Dr. Alsheikh is the best! Always answers all my questions which makes me feel I have his utmost attention. He is so patient and kind.
---
3/29/2022
Best doctor I have ever had! Good communicator, caring, interested, patient, makes me feel like I'm the most important patient he has.
---
3/28/2022
Best experience I've had yet interacting with a doctor. Dr. Alsheikh was the best!
---
3/24/2022
Very kind, thorough and interested in my needs and concerns
---
3/24/2022
Good
---
3/24/2022
I drive from [...] to Pensacola Florida to see Dr Alsheikh every six months he's excellent thorough professional and he listens.
---
3/05/2022
Dr. Alsheikh ALWAYS cares about his patients and is genuinely interested in them - he NEVER treats you as a number like some doctors do. In fact, I have told him many times, he needs to give an in service to doctors to teach them about patient care. I have recommended 2 or 3 of my friends to him and they all loved him.
---
3/04/2022
Can't describe the comfort I feel when I am in Dr Alsheikh and his staff's care. My feelings reassure me constantly
---
3/04/2022
Dr. Alsheikh is an excellent physician!!! Great experience!!
---
Biography
Medical Education
Damascus University School of Medicine
Damascus, Syria
Residency
Internal Medicine
Indiana University
Indianapolis, IN
Fellowships
Cardiovascular Diseases
Indiana University
Indianapolis, IN
Clinical Cardiac Electrophysiology
Indiana University
Indianapolis, IN
Board Certifications
Clinical Cardiac Electrophysiology
Cardiovascular Disease
Internal Medicine
Memberships
Heart Rhythm Society
American Heart Association
Fellow, American College of Cardiology