Nurse Recognition Programs
Professional Recognition Program
The purpose of the professional recognition program is to provide an equitable and systematic framework for the recognition of the commitment of the Registered Nurse to exemplary professional practice as evidenced by professionalism and excellence in clinical nursing practice. According to the AACN Synergy Model for Patient Care, nursing care reflects an integration of knowledge, skills, experience, and attitudes needed to meet the needs of patients and families. The eight essential nursing competencies are necessary for contemporary professional practice but each competency assumes more or less importance depending on a patient's individual characteristics. Synergy results when the needs and characteristics of a patient, clinical unit, or system are matched with a nurse's competencies.
Daisy Award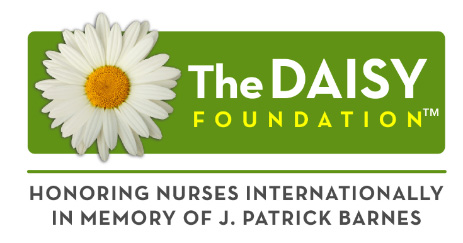 Baptist Health Care is proud to recognize nurses through the DAISY Award. The DAISY (Diseases Attacking the Immune SYstem) Award is an international recognition program that honors and celebrates the skillful, compassionate care nurses provide every day. The DAISY Foundation was established by the family of J. Patrick Barnes after he died from complications of the auto‐immune disease ITP in 1999. During his hospitalization, they deeply appreciated the care and compassion shown to Patrick and his entire family. When he died, they felt compelled to say "thank you" to nurses in a very public way.
This recognition program is a meaningful way of expressing personal, heartfelt appreciation to nurses for the important difference they make in all the lives they touch. It gives patients the opportunity express thanks for great care, and gives our organization more formal way of celebrating and recognizing these most valuable caregivers. If you would like to share a story of how a nurse made a difference in your life, please complete the attachment below.
Want to Say Thank You to Your Nurse? Three Ways to Share Your Story:
Print the
Daisy Award Nomination Form (pdf)
and mail your completed form to:
DAISY Award Facilitator
Baptist Hospital
1000 West Moreno Street
Ground Floor Administration
Pensacola, FL, 32501-7500
You could also scan and email your form to DAISYAward@bhcpns.org
NOTE: In using email technology if your communication is very sensitive or includes information such as your social security number, diagnosis, or medical history, consider this option.