Nursing Community of Practice
Baptist Health Care's Nursing Community of Practice
As nursing professionals, we are fortunate to partner with a multidisciplinary team of skilled health care colleagues. As a member of the Baptist team, nursing professionals practice in a collaborative environment through a professional practice model that supports Professional Governance.
Whatever your professional goals may be, we have diverse practice settings that can assist you with realizing your full potential and dreams. We are passionate about Redefining Nursing Excellence and are seeking nursing professionals who share that same passion for patient centered excellence.
Nursing Mission Vision and Values
Mission Statement
Baptist Health Care nurses are passionate about our patients, our community and our team.
We promote healing and inspire hope through all stages of life.
We advance both the art and science of nursing through education and innovation.
We collaborate to ensure continuity of care.
We hold ourselves accountable for optimal outcomes.
We deliver compassionate care with respect for all.
WE ARE EXTRAORDINARY! WE ARE BAPTIST NURSES!
Vision
Redefining Nursing Excellence
Values
In addition to the guiding principles identified through the Baptist Health Care Values, our professional endeavors will be guided by our commitment to Ownership.
Professional Development
The Baptist Health Care nurse is a self-motivated individual who understands the importance of continually advancing their knowledge and skills of evidence-based practice and is actively engaged in educational opportunities. Baptist understands the importance of the continual development of the professional nurse and provides support through internal and external opportunities for advancement to increase the level of best practice of the organization.
Nurturing and Mentoring
Our nurses demonstrate willingness to share information and expertise with others. As a preceptor we develop our own nurses from novice to expert. We recognize different learning styles and adapt teaching styles/techniques to meet the needs of the learner. We serve as the role model, advisor, coach, counselor, guide, teacher and supporter. Our nurses have a willingness to provide and receive constructive feedback in a respectful manner. We support the professional development of others. Our nurse provide an observable image that others inspire to emulate.
Gracious Demeanor
Baptist nurses have a compassionate heart with a strong desire to relieve suffering of all through: the gift of time and active listening; empathy and expressions of kindness; and respect for individual differences
Advocacy for All
We passionately act as the voice for the vulnerable committed to preserving human dignity, rights and safety for all.
Collective Mindfulness
Preoccupation with failure – We maintain a focused attention to detail and anticipate risk.
Reluctance to simplify – We don't assume. We thoroughly assess, investigate, and validate.
Sensitivity to operations – We are intentionally aware that our actions impact the systems and processes of the organization
Deference to expertise – We will humbly recognize the value and diversity of all and encourage and respect their contribution.
Resilience – Together we will grow through our failures with a culture of transparency and grace
Nursing Strategy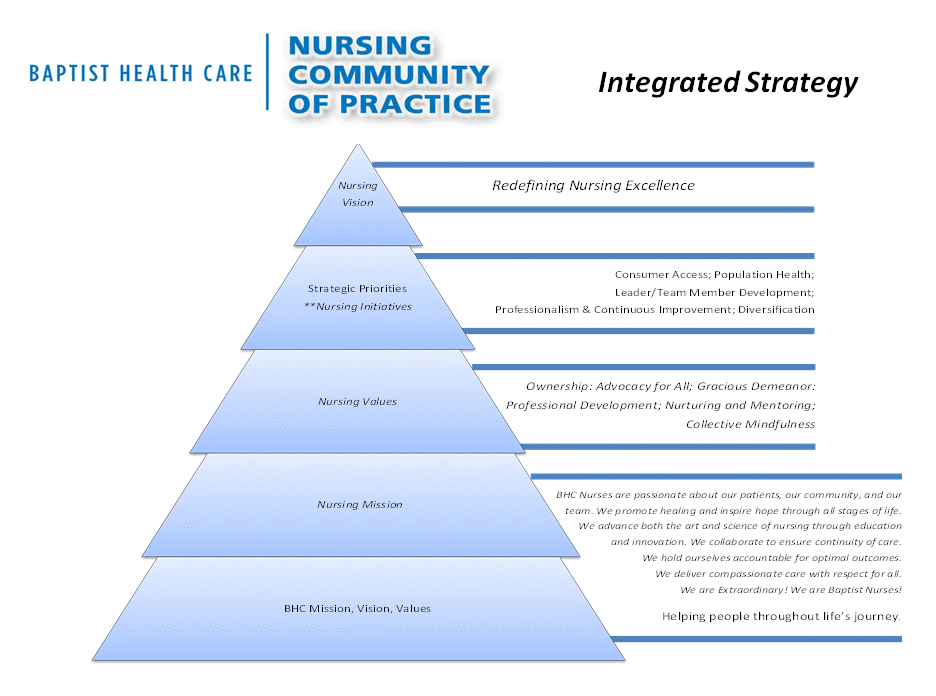 Career Growth and Development
Professional nursing practice touches all aspects of health care. At Baptist Health Care we offer a wide variety of nursing career options. There are more than 40 medical specialties that offer a career-enhancing setting for the professional nurse. These specialties include behavioral health, ENT, emergency and trauma, family medicine, gastroenterology, geriatrics, heart and vascular, hematology/oncology, home health, imaging, infusion services, labor and deliver, neurosciences, orthopaedics, surgery, occupational health, palliative care, urology, women's health and wound care.
Areas of Specialty
Hospital (inpatient) nursing at Baptist involves a variety of specialty areas such as surgical intensive care, change to cardiovascular intensive care unit, progressive care unit, renal care, orthopaedics, surgical, women's center, labor and delivery, nursery, cardiology, neurosciences, med/surg, cardiac, oncology, emergency department and behavioral medicine.
Perioperative and procedural nursing at Baptist encompasses many clinical specialties such as general surgery, plastics, neurosurgery, ophthalmology, trauma, urology, orthopaedics, cardiothoracic, robotic, oral surgery, bariatrics, electrophysiology, gynecology, ENT, gastroenterology, podiatry, pain management and vascular surgery. There are a wide variety of clinical settings such as the pre/post, PACU, operating room, outpatient surgery, cath lab, interventional radiology and heart and vascular.
Ambulatory/outpatient nursing at Baptist uses an efficient, effective and evidence-based practice to provide patients and their families with quality episodic care, in a single or a series of encounters, to promote wellness, prevent illness, and manage acute and chronic diseases. Many opportunities are available with our physician practices such as: pre- surgical optimization clinic, ent, gastroenterology, ladies first ob/gyn, neurosurgery, oncology, endocrinology, ortho/trauma, rheumatology urology, surgery – general and colorectal, hospitalist, Andrews Institute for Orthopaedic & Sports Medicine and Cardiology Consultants